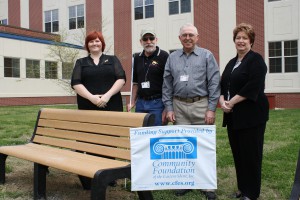 Community Foundation of the Eastern Shore (CFES) announces the completion of an exciting volunteer effort in Somerset County.  Two permanent park benches were placed at the Alice B. Tawes skilled nursing facility in Crisfied, MD.  Ned O'Brian, a dedicated McCready Foundation volunteer and graduate of the Community Foundation's ShoreLEAD Volunteer Academy led this effort.
McCready Foundation received a $1,000 grant from the Community Foundation's Small Grant Program to support this outdoor beautification project.  An outdoor gardener at the nursing home facility, O'Brian created the vision and facilitated the installation of the benches for the residents, volunteers and staff at the McCready Hospital campus to enjoy.
Pictured are: Heather Towers, CFES Program Officer, Ned O'Brian, McCready Foundation Volunteer, Phil Goldsborough, McCready Foundation Board of Directors; and Joy Strand, McCready Foundation CEO.
"The ShoreLEAD Volunteer Academy provides the resources many volunteer leaders require to transform their ideas into tangible results," states Heather Towers, CFES Program Officer.  "We are very excited about the opportunities to partner with volunteers and nonprofits from the Lower Eastern Shore."
For additional information, please contact Heather Towers, CFES Program Officer, at 410-742-9911 or htowers@cfes.org or visit www.cfes.org.