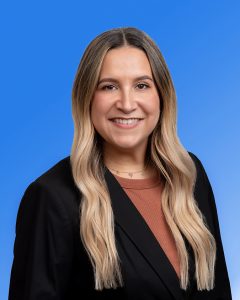 SALISBURY, MD – CFS, Inc. (Comprehensive Financial Solutions) provides personalized solutions to its clients across Delmarva and throughout the United States, including Financial Planning, Small Business Retirement Plans, Tax, Insurance, and Wealth Management.
The growth CFS has experienced over the past year finally warranted the firm to hire a full-time receptionist. Historically, reception responsibilities were split amongst the firm's Client Service Associate Team, with their Senior Associate, Shelly Mullins, greeting clients. Beginning in November 2021, Natalie Sanchez joined the team offering vital support to Associates and Advisors. CFS is pleased to announce that within a year of joining the team, Natalie has been promoted to Client Service Associate I.
Natalie brings with her certifications in "World Class Customer Service" and Occupational Safety and Health Administration (OSHA), and a long history of customer service jobs. Working as a camp counselor, daycare teacher, and an assortment of front desk reception positions across the United States, Natalie shows exquisite care for clients and prospects. After just a brief time with CFS, the value she brings to the team is immense.
Natalie, originally from Orlando, Florida, married her high school sweetheart, Mark, a Staff Sergeant in The United States Marine Corps. With 13+ years serving our country, Mark has been stationed at Camp Lejeune in Jacksonville, North Carolina as well as at MCAS in Yuma, Arizona. The Sanchez Family has seen five deployments, including Romania, Spain, Afghanistan, Iraq and Mediterranean Expediting Unit through Europe, Africa, and Middle East.
Natalie and Mark have two wonderful children, Johnny and Xander. Both children have become part of the family at CFS, with their youngest, Xander, assisting in the office three times per week as the office comedian and Johnny during tax season.
At Comprehensive Financial Solutions (CFS) we have assembled a Team of experienced, highly qualified professionals who have been helping families pursue their financial goals for over 35 years. Securities and advisory services are offered through Cetera Advisors LLC, member FINRA/SIPC, a broker/dealer and registered investment adviser. Cetera is under separate ownership from any other named entity.