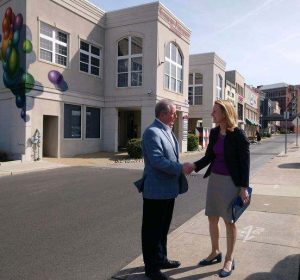 The Salisbury Area Chamber of Commerce and The Greater Salisbury Committee welcomed Maryland Comptroller Brooke Lierman on Wednesday, April 12th, to Salisbury.
Highlighting our region's ongoing workforce and housing initiatives, the Comptroller toured several businesses, including the Pohanka Automotive Training Center, Perdue Henson Junior Achievement Center, the Arcon Training Center, and The Ross in Downtown Salisbury.
"A visit to Salisbury and the lower shore is always a good one; it's a prime example of what happens when you invest in your communities and share the wealth," Lierman commented.
"There is so much opportunity and potential on the shore and throughout Maryland. We want to make sure that, when meeting with our Comptroller employees on the shore, we also see firsthand the amazing work happening."
The tours highlighted real-time workforce training initiatives at Arcon, with the burgeoning offshore wind industry, certifying automobile mechanics at the Pohanka Training facility, and introducing various career options for school-age students at the soon-to-be-completed Junior Achievement Center.
"It's like Maryland in miniature, if Maryland is America in miniature. So, there's a lot of great potential and opportunity in Salisbury."
The Comptroller adds that she plans to take all the information and ideas gathered in Salisbury this past Wednesday back to Annapolis.
"We've got great groups here where everybody comes together to discuss the future and make sure it's strong," she said.
Morning business tours were followed by a luncheon at Mogan's Oyster House with regional business and educational leaders. The day concluded with a meet and greet at the new Evolution Craft Brewing outdoor beer garden with elected officials and community members.