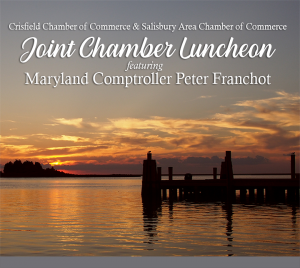 On January 10, 2020, the Crisfield and the Salisbury Area Chambers of Commerce will host a special luncheon featuring Maryland Comptroller Peter Franchot on Friday.
The luncheon will be held at 11:30 AM at the brand new Somerset County Technical High School in Westover, Maryland.
The Comptroller will address the upcoming 2020 Maryland General Assembly Session, the initiatives his office is undertaking for citizens and businesses on the Lower Shore, and an outlook on Maryland's economy for the upcoming year.
Seating is limited for this special luncheon event.
For more information, call the Crisfield Chamber of Commerce at 410-968-2500 or the Salisbury Area Chamber at 410-749-0144.
REGISTER at https://checkout.square.site/pay/c73cdca17bbb4d5b8e6d6b93bfe19be2