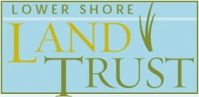 The Lower Shore Land Trust (LSLT) welcomes the public to join in on a free "Conservation Toolbox Workshop," to be held on January 17th, 2019. This event is open to the public and specifically targeted for landowners with property in the Dividing Creek, Pocomoke River, Coastal Bays, and Lower Wicomico River watersheds.
This free event is an introduction to the financial and technical assistant options available to the public to enhance the health and value of Lower Shore woods, wildlife habitat and waterways. Attendees can learn about conservation easement programs, Black Duck enhancement, Bobwhite habitat conservation, wood-chip bioreactors, restoring native species for pollination, and much more. Speakers include Jake McPherson (Ducks Unlimited), Phal Mantha (Ridge to Reefs), Bob Long (Maryland Department of Natural Resources), Mike Dryden (The Nature Conservancy), Lower Shore Land Trust staff and others.
Coffee and refreshments will be provided.
For more information, please RSVP to Susanne Ketcham at 443-234-5587 or sketcham@lowershorelandtrust.org.
When: January 17, 2019 (from 9am – 10:30am)
Where: Pocomoke Library (301 Market Street, Pocomoke City, MD)
Cost:      Free
The Lower Shore Land Trust is a nationally accredited 501(C)(3) nonprofit that is dedicated to preserving rural lands, promoting vibrant towns, and to building a more healthy and connected Eastern Shore.
# # #