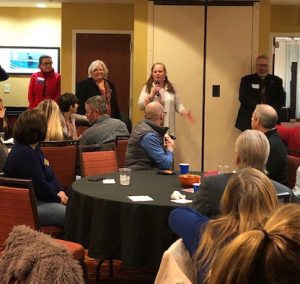 By Cathy Diekmann
The first Salisbury Area Chamber of Commerce (SACC) event of 2020, aptly named, "Back to Business (After Hours)" was hosted by the hospitality experts at the Courtyard by Marriott on January 9, 2020.
Director of Sales, Patty Shea and Sales Manager Kerryann Martin welcomed guests to a hotel that literally sparkles and shines. Chef Terrence of the Courtyard by Marriott had laid out a tasty array of appetizers. Bartender Christian Whitcker, a recent UMES graduate, served cold drinks with an amiable smile and banter. When word got around that Whitcker is a gifted vocalist, he was coaxed into singing an impromptu "Star Spangled Banner." His silky rendition of the national anthem prompted resounding applause for his talent.
The crowd, a buzz from networking and enjoying the evening, gladly turned their attention to Shea during her program remarks. She noted that their business prospers by relationships with their customers and through the SACC. "The Salisbury Area Chamber offers opportunities for members to develop and continue business relationships – through Business After Hours, the lead referral groups, and (the support of) Chamber staff."
Shea explained that, in addition to guest and meeting rooms, both the Courtyard and Residence Inn by Marriott offer a pool, fitness center, laundry facilities and complimentary WiFi. "We take care of our customers," she enthused. "Our amenities and services encourage loyal clients for whom our hotels become their home away from home."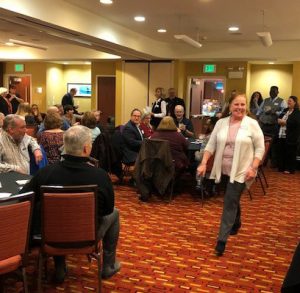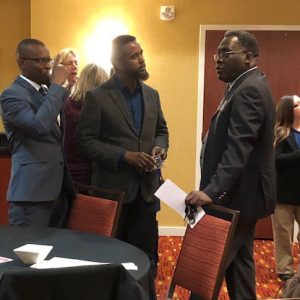 Not all long-stay guests at the Residence Inn are corporate clients or families awaiting a new home to be built. Some have lost their home through a fire or terrible storm. The Residence Inn partners with the Federal Emergency Management Agency, insurance companies and disaster relief organizations to ensure folks have a place to lay their head when all appears lost.
Before turning the program over to SACC President/CEO, Bill Chambers, Shea reminded guests that Chamber membership means savings at their hotels. "We offer a 20% discount on meeting space and hotels rooms for SACC member businesses and their representatives, plus corporate partners can obtain a negotiated rate agreement, based on volume."
Referring to the start of the 2020 Maryland General Assembly, Chambers quipped that it's an "interesting" time to be in business in Maryland. There are a multitude of bills before the Assembly that could have an adverse effect on the Eastern Shore.
"I have a strong feeling that the Kirwin Commission recommendations will be top the list for attention during the session," Chambers asserted.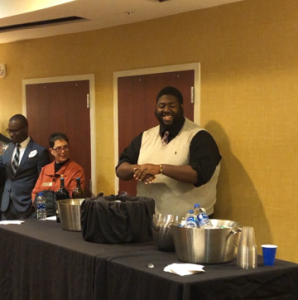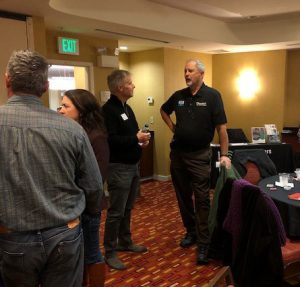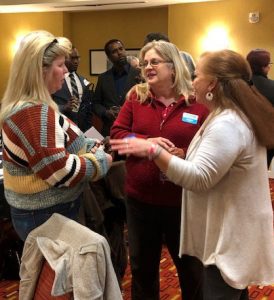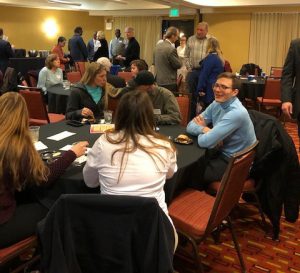 The Salisbury Area Chamber of Commerce supports the Kirwin recommendations, but Chambers noted that lawmakers need to find an equitable balance to fund Kirwin. "The lion's share cannot be born on the backs of business. That burden would make it very difficult for Maryland businesses to operate successfully."
Other topics of concern for businesses during the 2020 General Assembly include the Paid Family and Medical Leave Bill, state regulations that impact affordable housing in rural jurisdictions, maintaining support for community colleges, continuing the effort to reduce the state corporate income tax rate and stalled legislation that would exempt tax on aircraft parts. Chambers explained that this tax exemption is not only critical for the SBY Regional Airport, but matters to all businesses. "Our airport is an asset that is key to local economic growth."
Is your business well informed about all the issues that impact business interests in the Salisbury area? The Salisbury Area Chamber of Commerce mission is to provide business connections, advocacy and professional development. Not a member? Call 410-749-0144 to join. We are stronger together!