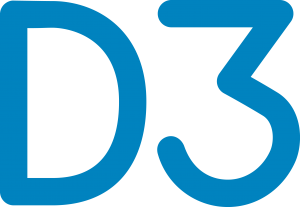 OCEAN CITY, MD – September 16, 2022 – D3, a full-service digital marketing agency serving businesses on the Delmarva Peninsula, today announced a partnership with Salisbury Area Chamber of Commerce to manage SBYbiz, the chamber's online business journal, https://sbybiz.org/,  its supporting website and weekly email marketing efforts and the SBYbiz Facebook page, https://www.facebook.com/sbybizjournal.
"The value of this partnership lies in the very foundation of what we do as a chamber," said Bill Chambers, president and CEO, Salisbury Area Chamber of Commerce. "Our goal is to promote and protect the interest of our members. We are practicing what we preach. As one of our active chamber members, D3 has provided value to our membership offerings, by sharing their team's expertise in marketing through the Marketing & Media workshops. Over the summer we worked closely with D3 on a strategy that will level up the efficiency and effectiveness of SBYbiz in a way that will offer even more marketing opportunities for our members."
"We are a proud member of the Salisbury Area Chamber of Commerce and appreciate how vital the organization is to the credibility, visibility, and connectivity of area businesses," said Jay Bosley, Chief Operating Officer, D3. "This is an exciting partnership because it allows us to bring more opportunities to chamber members to share their messaging with area businesses, potential clients and the community at large."
What's in it for you?
Free marketing offerings are available to members on SBYbiz.org, the business journal's social media and email marketing platforms and affordable digital ad space in the SBYbiz weekly e-newsletter, distributed each Friday to over 1,400 SACC member businesses and subscribers.
Please send all press releases to chamber@salisburyarea.com.
Press Releases should include a headline, contact, text with full sentences, quotes dictated between "quotation marks" and referenced to a name and title.  Events should list the date, time, location and a website for more information.  Photos submitted need to be a minimum of 600 pixels wide and 72 ppi (pixels per inch) for resolution.  Please include photo captions with the first and last names, titles of people appearing in the photo, from left to right.
Salisbury Business Journal Digital Ads
Online advertising packages include various banner placements on SBYbiz.org and in the Friday e-newsletter. Ads run on a six-month or one year basis, billable monthly. Ads rotate on a randomized basis with a possibility of six different ads rotating per option.
For rates and ad sizes visit http://www.sbybiz.org/advertise.
What is SBYbiz?
The Salisbury Business Journal (www.SBYbiz.org) is a local, business-focused website covering news and events across the Delmarva Peninsula, brought to you by the Salisbury Area Chamber of Commerce. Content includes Business Mix – Specific company and industry news, and informational articles; Chamber News – SACC events, photos, programs, and member profiles; Community News – Local, community-oriented events, programs, and information; and Government News – News covering local and state government. The SACC news and member press releases are published daily on SBYbiz.org and on the Salisbury Business Journal Facebook page.
About D3
D3 is a full-service marketing agency based in Ocean City, MD with 26 years of experience in web, print, design, development, and marketing services to area businesses. D3's team of brand experts provide cohesive, innovative, and cost-effective marketing solutions that drive audiences to desired responses, across all market sectors. All-inclusive and consistent in its approach, the company is dedicated to building strong relationships with customers, business partners, and community organizations. D3Corp.com