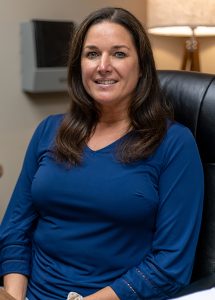 OCEAN CITY, MD – D3, a full-service digital marketing agency serving businesses on the Delmarva Peninsula, today announced the promotion of Laurie Tochterman to vice president of client services. Laurie has been with the company for 15 years, starting in customer service, collaborating with clients on website updates. Her current role offers support to D3's client success managers, ongoing development, implementation and troubleshooting through set processes and procedures and collaboration with the marketing team.
"I love having the ability to empower my teammates at D3," said Laurie. "When we bring new people on board, I want to know what they want to learn, what path they want to take. The same goes for our customers. What are their needs? What are they looking to get out of their marketing firm? My career offers endless opportunities to gain experience and grow professionally."
As digital advancements have evolved over time, Laurie added the D3 team transformed in parallel with the trending market.
"They are a dynamic group of innovative minds committed to looking out for each other and pulling the weight together. We brainstorm, troubleshoot, feed off each other's creativity and have a lot of fun doing it."
One of the most rewarding projects Laurie worked on during her tenure with D3 is the marketing, rebranding, and new product development initiatives for George's® Beverage Company.
"I have been working with the George's team for eleven years. They are like family. Having the opportunity to be a part of their growth and success is why we do what we do. We may not know the secret recipe for the perfect cocktail mixer or spirit, but we know how to share them with the rest of the world."
When it's time for a break, you'll find Laurie spending time with her family, her dog, Patch and soaking in live music or sunshine out on the water.
About D3
D3 is a full-service marketing agency based in Ocean City, MD with 25 years of experience in web, print, design, development, and marketing services to area businesses. D3's team of brand experts provide cohesive, innovative, and cost-effective marketing solutions that drive audiences to desired responses, across all market sectors. All-inclusive and consistent in its approach, the company is dedicated to building strong relationships with customers, business partners, and community organizations. D3Corp.com