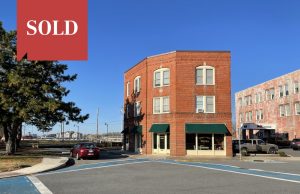 SALISBURY, MARYLAND – January 7, 2021 – Principal Chris Davis and Advisor Christian Phillips recently collaborated to confidentially sell an off-market historic building in Downtown Salisbury. The +/- 2,500 square foot income producing property is located at 146 West Market Street, a prominent and highly visible parcel fronting the Wicomico River.
Davis and Phillips managed a swift sale with just nine days passing between the time of initial inquiry and settlement. At year-end, time was of the essence; the pair's efficiency and market knowledge proved to be a resource to all involved parties.
"This building offers enormous potential based on its location and visibility," said Davis. "As Downtown Salisbury's reinvigoration continues, we expect that this building will sit at the center of future growth and revitalization."
This sale marks the second transfer of ownership in 2020 for 146 West Market Street, the former home of "Market Street Books". In April 2020, jeweler and owner of Kyle Edwards Fine Jewelry, Kyle Bounds, purchased the property with intent to convert it into a showroom for his business. When approached in late December by Davis and Phillips with an offer to purchase, Bounds ultimately accepted, selling to local investor Charles Correll.
"The buyer was initially attracted to the building's history," said Phillips. "When you couple the property's uniqueness with its centralized location, you're presented with a cool investment opportunity."
The three-story building features ground-level office and/or retail space and two fully leased upper-level residential apartment units. Renovations were started by Bounds earlier this summer and are expected to continue under new ownership.
For potential leasing information or to inquire about other off-market investment opportunities throughout the Delmarva region, contact Chris Davis / Tori Brown or Christian Phillips at Chris@NAICoastal.com / Tori@NAICoastal.com / Christian@NAICoastal.com or call 410-543-5115.
NAI Coastal is a full-service commercial brokerage headquartered at Riverview Commons, 150 West Market Street in Downtown Salisbury, Maryland. The team of ten advisors have comprehensive market knowledge and an unwavering commitment to the Delmarva region. In addition to brokerage and development, NAI Coastal rounds out their service offerings with consulting, which covers leasing, assemblage, acquisition and sale and investment advising. For more information please visit www.naicoastal.com or call 410-543-5115.