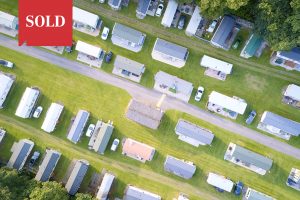 SALISBURY, MARYLAND – January 18, 2021 – Principal Chris Davis recently participated in the sale of Tilghman Mobile Home Park, a 57-lot community in Federalsburg, Maryland. The purchaser, Sunrise Capital Investors, is a fund based out of Clearwater, Florida that specializes in the acquisition and management of mobile home communities.
"This is the second park we have purchased under Chris' representation and each time, he has proven to be a huge resource to our team," said Kevin Bupp, Chief Executive Officer of Sunrise Capital Investors. "His understanding of the industry's complexities allows him to conduct the basic due diligence required to vet opportunities. He knows our criteria and consistently presents us with quality investments."
Davis collaborated with Advisor Brandon Heaver of SVN Miller Commercial Real Estate, representative of the seller.
"There tend to be a lot of moving parts in investment transactions and having a strong, capable brokerage team is crucial," said Davis. "I enjoyed working with Brandon to get our clients across the finish line. His responsiveness and attention to detail were invaluable."
For information on other mobile home park investment opportunities, contact Chris Davis at Chris@NAICoastal.com /  Tori@NAICoastal.com or call 410-543-5115.
NAI Coastal is a full-service commercial brokerage headquartered at Riverview Commons, 150 West Market Street in Downtown Salisbury, Maryland. The team of ten advisors have comprehensive market knowledge and an unwavering commitment to the Delmarva region. In addition to brokerage and development, NAI Coastal rounds out their service offerings with consulting, which covers leasing, assemblage, acquisition and sale and investment advising. For more information please visit www.naicoastal.com or call 410-543-5115.
ABOUT NAI GLOBAL
NAI Global is a leading global commercial real estate brokerage firm. NAI Global offices are leaders in their local markets and work in unison to provide clients with exceptional solutions to their commercial real estate needs. NAI Global has more than 375 offices strategically located throughout North America, Latin America and the Caribbean, Europe, Africa and Asia Pacific, with 6,000 local market professionals, managing in excess of $1.15 billion square feet of property and facilities. Annually, NAI Global completes in excess of $20 billion in commercial real estate transactions throughout the world.
NAI Global provides a complete range of corporate and institutional real estate services, including brokerage and leasing, property and facilities management, real estate investment and capital market services, due diligence, global supply chain and logistics consulting and related advisory services. To learn more, visit www.naiglobal.com or www.naiglobalnewslink.com.