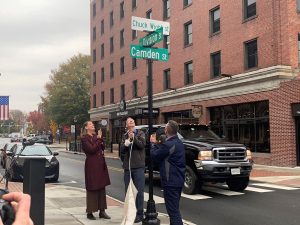 SALISBURY, MD – When Dr. Charles Wight became Salisbury University's ninth President in 2018, he announced several priorities he planned to pursue in his new role, including furthering mutually positive community relationships.
Now, Wight will forever remain a part of the Salisbury community, following a surprise presentation from the City of Salisbury, as Mayor Jake Day announced the renaming of Camden Street in downtown Salisbury as "Chuck Wight Street" in the President's honor.
"This street is where the downtown campus sits," said Day. "We're very proud that Salisbury University, under your leadership Dr. Wight, has chosen to make downtown Salisbury and Salisbury University no longer divided by a mile of our community, but rather connected directly."
"It is truly a pleasure to bring the city and the University closer together," said Wight. "It's better for both of us. We are truly better together."
The street is home to a number of historical business buildings, including SU Downtown, a 1930 retail and residential building partially converted to office space in 1992. Today, it is home to SU's Dave and Patsy Rommel Center for Entrepreneurship (designed during Wight's tenure and opened this semester), SU Art Galleries Downtown and the Eastern Shore Regional GIS Cooperative, as well as several non-SU businesses and organizations.
During the unveiling of the street's new sign, Wight, who has announced he will retire from his current position on June 30, 2022, was greeted by a number of supporters, including representatives from the city and the Salisbury Area Chamber of Commerce, both of which have been valuable partners with SU throughout Wight's presidency and beyond.
Learn more about how SU students and faculty are exploring opportunities for greatness and making tomorrow theirs at www.salisbury.edu.