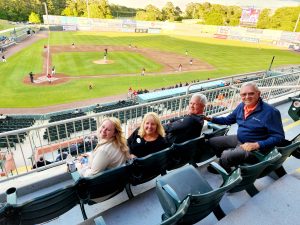 The Delmarva Shorebirds hosted the Salisbury Area Chamber of Commerce May Business After Hours on May 4, 2023, at the Arthur W. Perdue Stadium. The evening was a great success and the perfect opportunity to network with other community members.
General Manager Chris Bitters welcomed the group and briefly explained the team, the stadium, and their partnership with the Salisbury Area Chamber of Commerce.
"We appreciate everyone for being out today and joining us for this Business After Hours—special thanks to our staff member, Jennifer Atkinson, our Group Event Coordinator and main liaison with the Chamber. I am thrilled to have you all here; I already know many faces in the room because they are already our clients."
"We are a community organization that goes as far as the community that supports us, and we like to reciprocate that back by supporting local little leagues, churches, and schools, and donations to make our community better day by day," Bitters added.
"If you want to host a company outing in the summer, we would love to have you here. Stay for the game; we are in the first place right now, battling the team we are playing tonight for first place! As you have seen, the Orioles are doing very well, and I am proud to say most of those kids came through our team in Salisbury."
Since the 1996 opening of the Arthur W. Perdue Stadium, the Shorebirds have provided our community with a great, safe, and economical way of entertaining the entire family! With a seating capacity for 5,200 baseball aficionados, the Shorebirds play 140 games each season: half home and half on the road. Can't make the game in person? No problem, listen to it live on Fox Sports 960 AM.
The stadium offers a variety of opportunities to help local businesses reach their goals, whether to attract new employees, entertain existing employees, grow your client base, or establish a strong relationship with the Delmarva community. Facilities include an executive club and luxury suites ideal for entertaining your staff and clients with various all-you-can-eat menus and bar service. Also available are group discounted tickets, the Hardball Café, and a picnic deck – all ideal for a low-key gathering.
Guests were treated to ballpark food and beverages provided by Professional Sports Catering, giveaways, and a 50/50 raffle that benefits the SACC Foundation endowment initiative to offer scholarships to students attending Wor-Wic Community College.
For more information on games, tickets, and promotions, visit theshorebirds.com, call 410-219-3112, or email info@theshorebirds.com.
Delmarva Veteran Builders will host the June Business After Hours on Thursday, June 8, from 5:00 – 7:00 PM. Join Delmarva Veteran Builders as they celebrate their 10th anniversary with a parking lot party featuring fun and games, great food, and DJ music! Delmarva Veteran Builders is located at 120 E Market St., Salisbury. RSVP at salisburyarea.com.