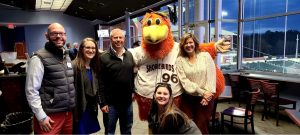 The SACC April Business After Hours, hosted by the Delmarva Shorebirds at the Arthur W. Perdue Stadium was held on Thursday, April 21, 2022.  A group of more than 75 members and guests were welcomed by Chris Bitters, General Manager for the Delmarva Shorebirds.
Since Arthur W. Perdue Stadium opened in 1996, the Shorebirds have become an integral part of the Delmarva community.  As the only professional sports team in the area, the team and stadium are an Eastern Shore staple.  With seating for 5,200 baseball aficionados, the Shorebirds play 140 games each season, 70 at home and 70 on the road, and games are broadcasted live on Fox Sports 960 AM.
The stadium offers a variety of opportunities to help local businesses reach their goals, whether it is to attract new employees, entertain existing employees, grow your client base, or establish a strong relationship with the Delmarva community.
Facilities include an executive club and luxury suites that are ideal to entertain your staff and/or clients with a variety of all-you-can-eat menus and bar service.   Also available are group discounted tickets, the Hardball Café, and a picnic deck – all ideal for a low key gathering.
Four lucky guests won swag items and tickets to the games provided by the Shorebirds and Ballpark. Delicious food and beverages were provided by their onsite catering, Professional Sports Catering.
The 50/50 Raffle benefiting the endowment initiative to provide scholarships for lower shore students raised $225.00.    Special thanks to winner Dr. Maria Cruz, who donated her share right back to supporting our efforts.
You can learn more about tickets, promotions, and much more by visiting their website theshorebirds.com, calling 410-219-3112, or email info@theshorebirds.com.
The May Business After Hours will be hosted by The Salisbury School on Thursday, May 12, 2022, from 5:00 – 7:00 PM. Register at www.salisburyarea.com.