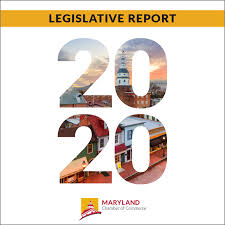 The Maryland Chamber of Commerce is proud to lead its membership, policymakers and other external stakeholders in support of policies that promote free enterprise, job creation and economic expansion. Throughout the 2020 legislative session, we worked diligently to support the passage of state legislation that would serve those goals, and prevent the passage of bills that would not.
On that note, we're pleased to present our 2020 Legislative Report–a comprehensive review of all state legislation that the Maryland Chamber supported or opposed throughout the 2020 legislative session, and the final status of those bills.
Despite the shortened session, the Maryland Chamber of Commerce had a tremendous impact on legislative proposals of significance to the business community. This year, the Maryland Chamber's Government Affairs team, in conjunction with the Chamber's Legislative and Policy Committees, reviewed 139 bills, submitting testimony on 100 with significant foreseeable effects on Maryland's business community. Sixty-eight of those 100 bills were eventually cross-filed, which means the Chamber officially submitted written or oral testimony on 68 bills by the conclusion of session. In addition, the Chamber led and participated in several successful coalitions including those in opposition to the expansion of the sales tax on all services, and in support of a sales tax exemption aimed at attracting data centers to Maryland.
The Maryland Chamber of Commerce maintained its status as a go-to resource for legislative advocacy impacting businesses across our state, thanks in large part to the enthusiasm and input of our 4,500 members and federated partners, like you. Thank you for supporting the Maryland Chamber in its efforts to make Maryland the best place in the country to live and work. Download your copy of the 2020 Legislative Report today.