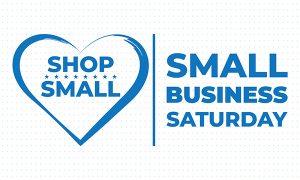 Salisbury, MD – Downtown Salisbury businesses are gearing up for Small Business Saturday, November 26th. Annually, the holiday falls the first Saturday after Thanksgiving and was created by American Express to remind people to support locally owned businesses in their community. The City of Salisbury is encouraging citizens to shop local this holiday season and support small businesses, as every dollar spent in a locally owned business is a dollar that stays in our community and helps our local economy.
In celebration of Small Business Saturday, many Downtown Salisbury businesses are offering unique specials and finds:
EVO Public House will host our annual Shuckin' Good Oyster Fest from 12pm-4pm with advance tickets available for $49.99! Fresh Catch & Daily Butcher Specials are available for dinner! As always, EVO retail and gift cards are available for purchase.
Soul Yoga will be offering 30-minute Sound Baths at the top of the hour between 12:00pm -3:00pm for $10!
Market Street Inn and Mojo's are hosting a gift card deal! Buy $100 in gift cards and get one $25 bonus gift card, buy $250 in gift cards and get three $25 bonus gift cards, buy $500 in gift cards and get seven $25 bonus gift cards.
New Creations Hair & Makeup Studio is hosting a Christmas Open House from 12 PM-2 PM, with 10% off gift cards purchased and services booked on November 26 and 20% off gift sets.
Blackwater Apothecary will be hosting a small business vendors market from 10am-6pm. There will be multiple local artists and crafters as well as a local photographer offering mini Christmas portrait sessions!
Visit Salisbury Art Space to see their Contemporary Abstraction exhibition on display. Salisbury Art Space will also be decorating their windows with handmade, recycled materials
If shopping has you feeling thirsty for a 21+ libation, stop by The Brick Room for Happy Hour all day and grab a free sticker while supplies last.
Deadstock SBY will have discounts on clothing and shoes, stop by to see the unique deals they have featured.
Two Scoops will be giving away a free gift for every $50 spent in store. Stop by for a cup of coffee or scoop of ice cream, and shop their home goods section.
Edit Downtown Salon will be offering 20% off hair products. Need some pampering? Book with Lindsey at Edit for 20% off color services.
Tiffany Moore Salon & Clothing will be offering sales on clothing items and all Christmas gifts.
Sugar Rush by Theresa and Krave Gluten Free Shop will be set up on W Main Street to cater to your sweet tooth.
Lilac Clothing Company is offering a free gift with purchases over $25 and 20% off in store and online with code SBS2022
And of course, Downtown Salisbury features plenty of other opportunities to shop at locally owned retail and restaurants. Shop today's latest fashions at L. Vondredi Boutique, Karma's Closet, or Dryden Dress or stop by Kaiju Records for a unique record or Lurking Class Skate Shop for the skater in your life. All that shopping is sure to spark your appetite, so don't forget to visit one of Downtown's 17 restaurants and eateries to fuel up. Downtown is also a hub to over 25 salons, so don't forget to stock up on beauty products or book with your local stylist.
As part of the festivities, there will also be an artist market along W Main Street in Downtown Salisbury. Over 40 vendors plan to line the street and sell their locally made goods. Small Business Saturday also officially kicks off the Downtown Salisbury Holiday Hunt, a free to participate scavenger hunt that will take you through Salisbury's Downtown district and to some of Salisbury's iconic institutions.
For those unable to physically shop in Downtown Salisbury, consider purchasing a Downtown Salisbury e-giftcard. The Downtown Salisbury e-giftcard can be used at 16 participating Downtown Salisbury locations and is the perfect gift for your loved ones. Downtown Salisbury e-giftcards can be purchased by visiting www.downtownsby.com and clicking "Gift Cards"
Visit Downtown Salisbury's Small Business Saturday Facebook event for updates on deals as they are added!