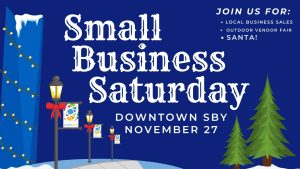 SALISBURY, MD – Downtown Salisbury businesses are gearing up for Small Business Saturday, November 27th. Annually, the holiday falls the first Saturday after Thanksgiving and was created by American Express to remind people to support locally owned businesses in their community. The City of Salisbury is encouraging citizens to shop local this holiday season and support small businesses, as every dollar spent in a locally owned business is a dollar that stays in our community and helps our local economy.
In celebration of Small Business Saturday, many Downtown Salisbury businesses are offering unique specials and finds:
Revival will be offering 20% off tickets with use of promo code SHOPLOCAL on their website and will be open for people to check out the space and buy tickets.
Escape Salisbury will have $5/20% off per person who book an Escape Room on Small Business Saturday using code SmallBiz
Stop by for a festive libation and gift card deal at The Brick Room. The Brick Room is offering a $10 gift card if you buy a $50 gift card, and $20 gift card if you buy $100.
Soul Yoga is hosting Market on the Mat from 10 AM-6 PM, they'll be featuring some amazing small (but freakin' awesome) business that are PERFECT for your holiday shopping needs!
Blackwater Apothecary is hosting even more unique artists in their shop on W Main, come check out Autonomous Art, Salvaged Botany, Mouthy Broad Co, Luke Bucy, the Jaded Jasper, and Goddess of Grain!
Park and Flea is offering $5 spaces on Small Business Saturday! As you head down E Main, stop by the Park and Flea in Lot 10 (along Rt 13) and find something unique!
Small Business Saturday coincides with The Art of Chula's 1 year anniversary! To celebrate, they'll be offering specials all month long! Including $100 full lash sets, $75 body sculpting/cavitation/vacuum therapy/BBP sessions, and 10% off all skin care services!
Sugar Rush by Theresa will have 15% off of all items!
Lilac Clothing Company will be hiding gift cards around the store for customers to save $5-20 off their purchase & there is 1 lucky $100 gift card! 20% off in store purchases and a free gift with purchases over $100.
Two Scoops and Waffles is offering 10% off purchase ALL DAY, plus a gift card special – spend $50 get a $5 giftcard, spend $100 and get a $5 giftcard and a free gift. They'll also have a Christmas Basket Giveaway. And not to be missed, try their FRESH, HOT Liege style Belgian waffles and sundaes all day long
Global Play Network is offering 13 months for the cost of 12 or a bonus card for $10 in Global Play Cash with purchase of $120. These offers will only be available online and during the Small Business Saturday event in Downtown Salisbury. Visit gpn10.com for more information and to purchase.
Pick up the perfect stocking stuffer at the Downtown Salisbury Visitor Center, which will be open from 10 AM – 3 PM. Show a receipt from a locally owned Salisbury business dated November 27, 2021 for a FREE OFFICIAL 2022 City of Salisbury calendar
Market Street Inn and Mojo's are hosting a gift card deal! Buy $100 in gift cards and get one $25 bonus gift card, buy $250 in gift cards and get three $25 bonus gift cards, buy $500 in gift cards and get seven $25 bonus gift cards.
Jamie's Closet will have 10% off all accessories (glasses/hats/jewelry) on Small Business Saturday
As part of the festivities, there will also be an artist market along W Main Street in Downtown Salisbury. Over 40 vendors plan to line the street and sell their locally made goods. Santa will also be making a visit from the North Pole to greet shoppers and get those Christmas lists from children. Look for him on the streets or stop by with your child at the Santa's Workshop along N Division from 12-2 PM. For those whose children might be shy, drop a letter in Santa's Mailbox on N Division in front of the Downtown Salisbury Visitor Center. Letters that follow directions on the USPS website will receive a response if received before December 10th.
For those unable to physically shop in Downtown Salisbury, consider purchasing a Downtown Salisbury e-giftcard. The Downtown Salisbury e-giftcard can be used at 15 participating Downtown Salisbury locations and growing and is the perfect gift for your loved ones. Downtown Salisbury e-giftcards can be purchased by visiting www.downtownsby.com and clicking "Gift Cards"
Visit Downtown Salisbury's Small Business Saturday Facebook event for updates on deals as they are added!