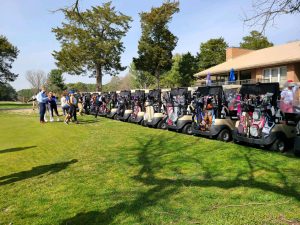 Thursday, March 25, 2021 brought sunny skies and springtime weather for the 17 teams that came out for the 2nd Annual SACC Ladies & Mixed Team 9 Hole Golf Challenge at Green Hill Country Club in Quantico, Maryland.
Following the 9-Hole round, players enjoyed food, networking, the Signature Humming Birdie cocktail, courtesy of BBSI , and player awards for 1st place through 4th place.
Congratulations to University of Maryland Eastern Shore's Robert Mock and Jamila Johnson for taking First Place with 34!
Thanks to all that participated and congratulations to the winners!
Second Place (35)
Pohanka of Salisbury Automotive
Sandy Fitzgerald-Angello
Shawna Kearsley
Renee Stephens
Ryan Devage
Third Place (35)
Zach Evans
Anthony Selimo
Kelly Jeter
Sarah Selimo
Fourth Place (35)
BBSI Salisbury
Brandon Havas
Robbie Justis
Cindy Hall
Linda Roskovich
Ladies Longest Drive
Jamilla Johnson
Closest to the Pin Ladies (4'1")
Hope Morgan
Closest to Pin All ( (20' 7")
Dale King
1st Place Media Team (34)
Salisbury Independent
Greg Bassett
Julia Glanz
John Petito
Karen Dunn
2st Place Media Team (34)
Clear Channel Outdoor
Dennis Weller
John Kilian
Phyllis Kilian
Liz Walker
We would like to extend a special thank you to our volunteers and sponsors, Pohanka of Salisbury Automotive, PKS & Company, PA, BBSI Salisbury, and K. Jill Hall, CFP, MBA, Landmark Insurance & Financial Group.
Be sure to mark your calendar for the 2021 SACC Golf Classic on September 24, 2021, at the Hyatt River Marsh Golf Club! Contact SACC at 410-749-0144 for sponsorship information.