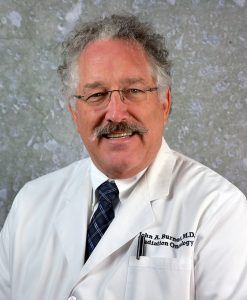 John Burnett, MD, has joined Peninsula Regional Medical Center's Richard A. Henson Cancer Institute as a radiation oncologist in Ocean Pines and Salisbury.
Dr. Burnett earned his medical degree from the University of Kansas, where he also completed an internship in surgery. He completed a residency in radiation oncology at Case Medical Center in Cleveland, Ohio. He is board-certified in radiation oncology.
Dr. Burnett comes to Peninsula Regional from Stark Radiation Oncology in Canton, Ohio. He has experience with many specialized radiation treatments to offer patients at the Richard A. Henson Cancer Institute in Salisbury and Ocean Pines. He has active staff membership at Peninsula Regional Medical Center and has joined the practice of Peninsula Associates in Radiation Medicine.