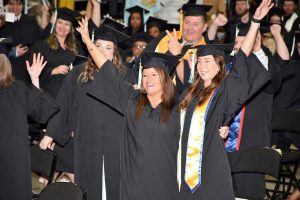 During Wor-Wic Community College commencement ceremonies at the Wicomico Youth and Civic Center in Salisbury, Dr. James D. Fielder, Maryland's secretary of Higher Education, encouraged the graduates to take on the challenges of leadership in a changing world.
"When I think of what's been invested in higher education during the last eight years, it's billions of dollars," Fielder said. "In scholarships, it's $1.1 billion, and hopefully some of you, if not many, took advantage of the Promise Scholarship which was enacted three years ago, providing up to $5,000 for students to go to community colleges. And that's the effort of saying, we need to invest in you, to invest in the future of the state of Maryland.
"I think about the 440 graduates in this class, it's phenomenal what you've achieved," he said. "The pandemic … has changed the world as we know it. It's radically changed the access to Maryland higher education. The emphasis is on increasing access, success through innovation, and we expect to see that as a continuing change."
Fielder said that leadership and change are intertwined, as change is led, not managed. He said that optimism and inspiration are key elements of leadership.
"Your first job will most likely be tied to your degree, tied to what you studied. But if you think out five years and 10 years with a goal, it's going to be your skills in communication and leadership," Fielder said. "People talk about how we need to manage change – no we don't. We need to lead change."
Fielder encouraged graduates to always retain their integrity and to be bold.
"Remember that when you're trying to effect change, it's how you make people feel. It's not the numbers, it's the passion."
Kimberly C. Gillis of Salisbury, chairperson of Wor-Wic's board of trustees, introduced Fielder and others on the stage, including Dr. Ray Hoy, president; Dr. Kristin L. Mallory, vice president for academic affairs; Dr. Bryan Newton, vice president for enrollment management and student services; the Rev. Dr. Helen Lockwood of St. John United Methodist Church and Calvary United Methodist Church; board of trustees members Russell W. Blake of Pocomoke City, Anna G. Newton of Berlin, and Morgan Hazel, vice chairperson, Andrew Booth and Martin T. Neat of Salisbury. Gillis also introduced other dignitaries in attendance, including Acting Wicomico County Executive John D. Psota of Salisbury, and Wicomico County Council members John Cannon, president, also of Salisbury, and Joe Holloway of Parsonsburg.
After the commencement address by Fielder, Hoy presented him with a plaque on behalf of the 2022 graduating class.
Newton introduced the student speaker, Stacy Commissaris of Salisbury. Addressing her fellow graduates, Commissaris, a dean's list student and member of the Wor-Wic chapter of the Phi Theta Kappa international honor society, shared her personal experiences of how she overcame personal challenges to reach her goal of graduating.
"The first time I attended Wor-Wic, I was fresh out of high school. I was very unsure of what I wanted in life," said Commissaris, who took time out and attended cosmetology school. "I became a single mother, making my living as a cocktail waitress working overnight shifts at a casino. I was a recovering intimate partner violence survivor and battling immense health complications as a result."
However, she said her experiences provided her with determination.
"When I returned to Wor-Wic for the second time I was in a much different phase of my life journey, but I knew that I wanted to finish my education. I took the first step to come back again to work on my general education degree," Commissaris said. "After I returned, I heard about a major in chemical dependency counseling. As I was planning my next semester, another life challenge halted my journey once again when I lost my father to cancer in January of 2020. It was only after his death that I realized his battle with chemical dependency had been far more challenging for him than I ever imagined.  His death drove it home for me — I wanted to help people, so I came back to school once more. With that motivation, I enrolled in chemical dependency classes and today I will graduate with my associate degree. I made it through the struggles, and I can now proceed into my double bachelor's program at Salisbury University."
Commissaris said she plans to earn a master's degree and provide counseling for survivors of intimate partner violence. She encouraged her fellow graduates to keep in mind their success at Wor-Wic when they face challenges later in life.
General studies was the most popular major among members of the graduating class, and is the degree Commissaris received; she will finish a second associate degree in chemical dependency counseling next year.
Nursing was the second most popular major, drawing students new to the workforce as well as career changers. Jim Reich of Salisbury was among the latter. Military experience and a decade as a correctional officer gave him the ability to work under pressure and communicate well. These skills, and his Wor-Wic education, have made Reich into the ideal emergency department nurse.
Reich said he's been supported along the way by Wor-Wic's veterans services. "I will always speak highly of the excellent support and services," he said. Reich was able to be a full-time correctional officer and full-time student – in addition to being a father of three and a devoted spouse. He plans to work in the TidalHealth Peninsula Regional emergency department after he receives his nursing license.
Reich says that having been a student at Wor-Wic more than once, as well as a career changer, he has advice: "Anybody who has ever thought of taking a chance, jump on it now. In the post-COVID world, it is the right time. Even though it can be scary changing careers, it's worth taking a leap. And Wor-Wic is a great place to help you do that."
Other graduates received degrees or certificates in business, chemical dependency counseling, computer studies, criminal justice, education, emergency medical services, hotel-motel-restaurant management, occupational therapy assistant, office technology, physical therapist assistant, radiologic technology and STEM.
The majority of the graduates were from Salisbury or other parts of Wicomico County, followed by Worcester and then Somerset counties. Graduates were also from Dorchester, Caroline, Queen Anne's, Talbot and other counties in Maryland, as well as from nearby states.
xxx
WICOMICO GRADUATE. Jim Reich of Salisbury, who received an associate of science in nursing from Wor-Wic Community College, said Wor-Wic's veteran services helped him attain his goal.
WORCESTER GRADUATE. Salina Kc of Ocean Pines graduated with an associate degree in education from Wor-Wic Community College. Kc works for Chesapeake Martial Arts in Ocean City and went back to school to help its afterschool program earn state accreditation.
SOMERSET GRADUATE. From left, Kathleen Shupe of Princess Anne was inspired by her grandmother, Ann Lung, to go back to school alongside younger brother Dylan Ross of Salisbury. The siblings were able to graduate from Wor-Wic Community College together; Shupe said that impressing their grandmother with higher grades made it a fun competition, even though they were in different programs.
CELEBRATION. Graduates get ready for the ceremony to begin at the Wor-Wic Community College commencement exercises at the Wicomico Youth and Civic Center.
GRADUATES. Graduates wait to receive their diplomas at Wor-Wic Community College commencement at the Wicomico Youth and Civic Center.
COMMENCEMENT. Graduates and guests listen to a speaker at the Wor-Wic Community College commencement at the Wicomico Youth and Civic Center.