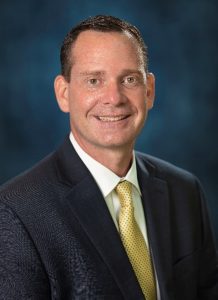 The Wicomico County Board of Education at a special meeting Wednesday, June 8 appointed Dr. Micah C. Stauffer to serve as Wicomico Superintendent of Schools for four years starting July 1, 2022.
Dr. Stauffer was one of the Board of Education's three finalists for the position of Superintendent of Schools. He has served as the school system's Chief Finance and Operations Officer since 2019, and prior to that was the Director of Secondary Education (2014-2019). He has served as principal of Parkside High and Mardela Middle and High, and assistant principal of Mardela Middle and High and Wicomico Middle. He taught science and coached at Parkside High. Dr. Stauffer is a graduate of Wicomico High School.
For more details, please see the bio posted below on Dr. Stauffer.
"I'm invested in this county," Dr. Stauffer said in his finalist video interview. "I went to schools in this county and grew up here. My wife graduated from WiHi, as did I. My son recently graduated from James M. Bennett and is doing well now at West Point, in college, and my daughter's a freshman at James M. Bennett, doing well in her activities and in school. The reason I want to be superintendent is because I'm invested in this county and I believe I have the strengths and the leadership skills to help us move forward together as a team."
Superintendent of Schools Dr. Donna Hanlin informed the Board in November that she would retire June 30, 2022. The Board of Education brought in the expertise of the Maryland Association of Boards of Education (MABE) superintendent search service for conducting the search process. MABE gathered community input into the search process through an online stakeholder survey on characteristics for the position of superintendent and key points to keep in mind about the school system and the county. This input helped shape the advertisement for the position of Wicomico Superintendent of Schools, for which applications were taken in February and March.
Applicants were evaluated, interviews were held with some applicants, and in early May the Board's three finalists were announced. A biography and a video interview were posted for each finalist, and community input was again taken through an online survey about the three finalists for superintendent. Board members considered all of the input, carefully reviewed the three finalists, and on June 8 voted unanimously to appoint Dr. Stauffer as the next Superintendent of Wicomico County Public Schools.
"Finding a new superintendent is one of the most important tasks of the Board of Education," Board Chairman Gene Malone said. "This has been a carefully and conscientiously conducted search process with expert support from the Maryland Association of Boards of Education and with input from the entire community. Each finalist's video interview was viewed approximately 1,100 times, and many, many people then shared their input on the finalists through a survey. We're confident that any one of our three finalists would have been an excellent leader for Wicomico County Public Schools. We're proud to announce that Dr. Stauffer will be the next Superintendent of Wicomico County Public Schools."