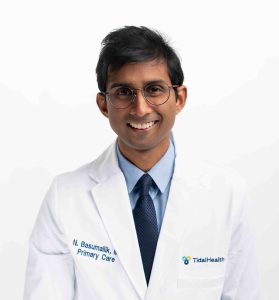 Salisbury, MD — TidalHealth is pleased to welcome Neil Basumallik, MD, to TidalHealth Primary Care in Salisbury, Md.
Dr. Basumallik received his medical degree from the State University of New York at Buffalo, Jacobs School of Medicine in Buffalo, N.Y., and a master's degree in public health from Columbia University in New York City. He completed his internal medicine residency at Rutgers-Robert Wood Johnson Medical School in New Brunswick, N.J.
Dr. Basumallik is board certified by the American Board of Internal Medicine (ABIM) and is a member of the American College of Physicians. He has participated in several publications and conducted clinical research as a medical student researcher at the National Institutes of Health (NIH) and the Heart, Lung, and Blood Institute in Bethesda, Md. Dr. Basumallik's professional interests include preventative medicine, nutrition, and public health.
Dr. Bausmallik grew up in Salisbury and graduated from James M. Bennett High School. When he is not treating patients, he enjoys photography, travel, and hiking.
Dr. Basumallik is accepting new patients at TidalHealth Primary Care, located at 1639 Woodbrooke Drive in Salisbury. To schedule an appointment, call 410-912-5785.