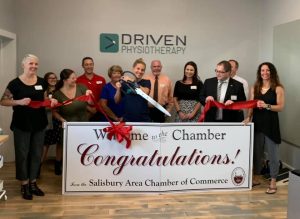 By Cathy Diekmann
During her September 28, 2021 Salisbury Area Chamber of Commerce new member ribbon cutting, Driven Physiotherapy owner Kate James shared a backstory to which many business owners can relate. Opening a new business is a long and winding process.  James confided, "I filed my LLC back in 2012. That was nine years ago!"
A lot happened in the interim. She had two children, worked at several gyms, and served as a tenure-track faculty member in the University of Maryland Eastern Shore's Department of Physical Therapy. A Board Certified Orthopedic Clinical Specialist, Certified Strength & Conditioning Specialist, and Titleist Certified Golf Fitness Instructor, James was itching to make her physiotherapy practice her full-time occupation. For eight months during COVID, she worked with clients in her garage make-shift gym. "I'm super excited to have this opportunity for what I call Driven Physiotherapy 3.0," James enthused.
Located within Fixer Upper Health Club at 742 E. Main Street in Salisbury, Driven Physiotherapy is on a mission to keep active people active by giving them the tools they need to support their health and wellness journey. "I treat the whole person, considering their goals for health and fitness, as well as lifestyle factors that may be contributing to their pain or performance limitations," James explained.  "That also means figuring out what works for the individual and what will help them progress from where they are to where they want to be."
James purposefully uses the term physiotherapy rather than the more common, physical therapy. "I want people to ask the question 'What is physiotherapy?' because I want to have a conversation with my client.  What I do is different from a traditional physical therapy setting. Rather than involving numerous therapists and all sorts of equipment and machines, what I'm offering is one-on-one, and individualized for each client."
James also put a lot a thought into her Driven Physiotherapy business logo. "I really like the idea of forward momentum and movement. So, I gave the letter v in "Driven" a little spin so that it's facing forward." To James, that exemplifies her goal to help people move beyond their injuries and get back to doing the things they love.
"It's easy to focus on the negative, on what we can't do, I like to help clients focus on what they can do. That gives us forward momentum toward their goal."
Learn more about Driven Physiotherapy by visiting their website drivenpt.com