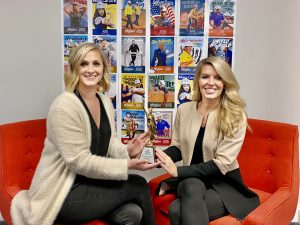 Dallas, TX – MarCom Awards announced on November 4th that Delmarva Veteran Builders' (DVB) ad campaign "Grit Leads to Greatness" as a winner in the 2020 international creative competition for marketing and communication professionals. There were over 5,000 entries from throughout the United States, Canada, and 28 other countries.
DVB's team includes creative developer Jenny Kerr Schroen and marketing director Katie Jones Brittingham.
MarCom Awards recognizes outstanding achievement by creative professionals involved in the concept, direction, design and production of marketing and communication materials and programs. Entries come from corporate marketing and communication departments, advertising agencies, public relations firms, design shops, production companies, and freelancers.
Judges are industry professionals who look for companies and individuals whose talent exceeds a high standard of excellence and whose work serves as a benchmark for the industry.
"We have been immersed in the Grit Project for over a year now. To see it finally launch and get international recognition is a testament to the commitment DVB's leadership has made to push ourselves creatively. It's an honor to represent the design community here on the Eastern Shore." -Jenny Kerr Schroen, Creative Developer
About MarCom: MarCom is one of the oldest, largest and most-respected creative competitions in the world. Winning a MarCom Award is highly sought-after, peer recognition from the creative industry. MarCom winners range from huge international creative agencies and Fortune 500 Companies to individual creative professionals. See more of DVB's award winning campaign and video launch at www.delmarvaveteranbuilders.com/gritproject To see this article on our news feed visit https://www.delmarvaveteranbuilders.com/news/MarCom
About Delmarva Veteran Builders: Delmarva Veteran Builders is the region's only commercial construction firm dedicated to bringing employment to U.S. Armed Forces Veterans. Launched in 2013 by Navy Veteran Chris Eccleston, it has become one of the fastest growing companies in the nation while maintaining a 60% veteran and reservist workforce. Located in Salisbury Maryland, Delmarva Veteran Builders is up for the challenge to provide an extraordinary customer service experience, while committing to innovation in quality and new construction techniques.