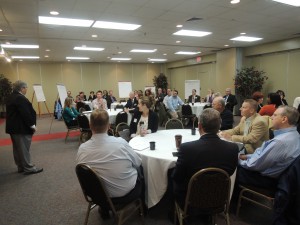 Eastern Shore Business Forum 3/12
The Salisbury Area Chamber of Commerce held the Eastern Shore Business Forum at the Wicomico Youth and Civic Center on Wednesday, March 12, 2014.
The Chamber engaged the business community in identifying the key business related challenges they are facing. The information obtained in the program will help guide the chamber in developing strategies and a program of work focused on addressing the issues identified.
Industry specific roundtable discussions explored: What keeps you up at night? The topics included community engagement, advocacy, workforce development, regulations, education, economic development & growth.
There were discussions with industry leaders from construction/real estate, retail, healthcare, professional services, technical services, financial & insurance, accommodations & food/tourism and nonprofit sectors.