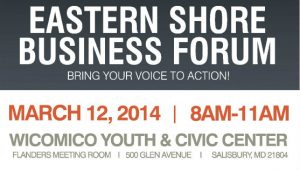 Salisbury Area Chamber to Host the Eastern Shore Business Forum
Bring Your Voice to Action! 
            The Salisbury Area Chamber of Commerce presents the Eastern Shore Business Forum at the Wicomico Youth and Civic Center, in the Flanders meeting room, on Wednesday, March 12, 2014.
Join us as we engage in business community to identify and discuss the key business related challenges you are facing. The information obtained in this program will help guide the chamber in developing strategies and a program of work focused on addressing the issues identified. Registration and light refreshments begin at 8:00am and the program will conclude at 11:00am.
Industry specific roundtable discussions will explore: What keeps you up at night? The topics will include community engagement, advocacy, workforce development, regulations, education, economic development & growth.
There will be discussion with industry leaders from construction/real estate, retail, healthcare, professional services, technical services, financial & insurance, accommodations & food/tourism, nonprofit, agriculture, and manufacturing.
The event is free to attend and is open to the public and Salisbury Area Chamber of Commerce members. Please RSVP to: businessforum@salisburyarea.com | 410-749-0144