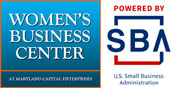 Maryland Capital Enterprises and the Women's Business Center is pleased to announce these free, online small business workshops. The guest speaker is Sophia Smecker, Independent Marketing Consultant.
Advance registration for all events is strongly encouraged to ensure there are enough registrants to have a workshop. For questions please contact Marvin Jenkins at mjenkins@marylandcapital.org or at 410-546-1900. To register visit https://www.marylandcapital.org/services/business-education. A registration link will be sent to you via email after you register.
Where? Anywhere-Zoom Webinar
The classes and dates include: Rediscovering Your Brand Mid-Pandemic – Now is the perfect time to reexamine and rediscover your brand. Whether your business model has completely changed, or it's business as usual, Covid-19 has impacted your customers in some way, and this webinar will give you strategies for revisiting your business' mission and reevaluating how you serve customers.
Tuesday, August 4th @ 5:30 pm
Thursday, August 6th @ 9:00 am
Pivoting for the Pandemic – From brand new marketing strategies, to inventive business solutions, and genuine acts of customer care, this webinar examines how businesses have pivoted during the pandemic.
Monday, August 17th @ 3:00 pm
Wednesday, August 19th, @ 10:00 am
More Free classes coming up in September!