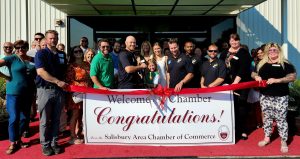 The Salisbury Area Chamber of Commerce welcomed Crown Sports Center and its new management to our membership with an official ribbon cutting on August 24, 2022.
Owners and business partners Brad Gills and Jeremy Norton welcomed guests to the newly acquired facility. Brad, a past president of the Salisbury Area Chamber of Commerce, started by thanking the Chamber for the invaluable service it gives to our community. He stated, "We purchased Crown Sports Center from Bill Hearne, who had renovated it in April 2021, and we quickly realized how valuable this asset is to the community. Our goals have always been to continue to operate this business, and it's been a fun journey! If it weren't for Bill's vision, leadership, and risk, we would not be standing in this building right now. Our incredible team runs Crown Sports Center, where we offer soccer, field hockey, and lacrosse. We are shutting down skating but looking at adding some additional athletics to the family component. We are partnering with Salisbury United Soccer Club and bringing the "club" aspect to our facilities. Jeremy is sharing his culinary passion and has improved the quality of the food served at Striker's Café, making the menu more robust."
Sports Crown Center focuses on the needs of families in the community in three categories: a robust sports program, Crown Care, and entertainment. 
In the sports category, they provide a state-of-the art, top-notch premier sports complex featuring indoor and outdoor sports. The complex includes five indoor turf fields, an 82,000 square feet temperature-controlled, multi-surface court, and a 10.5 acre Bermuda Grass outdoor field.  
They offer year-round youth and adult sports leagues, camps, clinics and tournaments for all skill levels.
Crown Sports Center offers indoor and outdoor space for leagues and tournaments in soccer, lacrosse, field hockey, and social leagues in co-ed kickball, dodgeball, flag football, and table tennis. Single field to full facility rentals is also available.
The Crown Care category offers before and after school daycare, school days out & snow days off care, and a fun-filled summer camp.
The Entertainment category focuses on family fun by offering laser tag, arcade games, and a rock wall. Ideal for birthday parties, team building, fundraising events, and more! Available group rates, overnight lock-ins, late-night events, and private facility rentals.
For more information, call 410-742-6000, visit the website at www.crownsportscenter.com, or stop by at 28410 Crown Rd, Fruitland, MD 21826