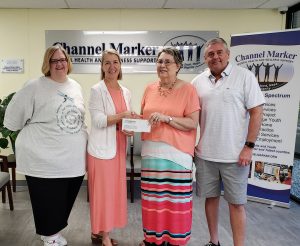 The ESBLN/SACC presented a check for just shy of $900 to Channel Marker in Easton on  June 4th.   This was made possible through a collaborative agreement between Channel Marker and the ESBLN's Ticket to Work Program and a successful employment placement for one of the individuals that Channel Marker serves.
Channel Marker supports their individuals in finding and keeping employment while the ESBLN's Ticket to Work Program provides additional work-related supports as needed along with some Social Security Administration protections for the individual.
Ticket to Work is a federal program that assists people receiving federal disability benefits (SSI or SSDI) to reduce their dependence on the system by going to work.  The individual that Channel Marker has served has become more independent through work, has been working for over a year and is now living independently.
For the business world, the individual is now a productive employee, a contributing member of our community and a taxpayer!  At the individual's request, the name will remain confidential.
For more information, contact Jackie Gast at esblnmd@gmail.com or 410 749-0144.