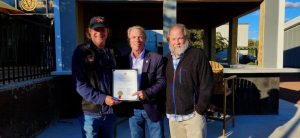 Evolution Craft Brewing Co. & Public House keeps "evolving" to become one of the best BrewPubs on the Mid-Atlantic!
A hearty crowd of 70+ SACC members joined Evolution Craft Brewing Co. & Public House brothers' Tom and John Knorr in a ribbon cutting celebration on Wednesday, October 19, 2022, featuring their latest "evolution" which includes the Beer Bar Garden, entertainment stage and additional restroom facilities.  This expansion is due to be finalized in the next couple of weeks.
The story of Evolution Craft Brewing Co. & Public House started in October 2008 when brothers Tom and John Knorr combined their passions for creating craft beers and savoring great food.   Little did they know that the name chosen for this venue "Evolution" would properly describe their journey in the next decades and they kept adding to the facilities, their beers, and their menus.
Offering the freshest fare possible, The Public House uses local farmers, local watermen, and many other local sourced products. Their belief is simple – keep it pure. The ingredients speak for themselves. Buying the best and freshest items and serving them without altering their true flavor.
You will find a variety of menu items ranging from grass fed burgers, all natural steaks to locally caught seafood. Buying from local markets year-round, all our menu products are made from scratch daily. Incorporating seasonal EVO beers in many dishes is another unique touch you will find. They also offer a full charcuterie menu featuring rotating cheeses and meats.
The other passion at EVO are beers!  Awarded "Best Craft Brewery," "Best Bar," and "Best Atmosphere" by locals. The Tasting Room bar offers all EVO mainline beers and seasonal selections (25+ beers!). EVO also offers small batch brews (ones that never make it to market) which are released exclusively at the Pub Bar and Tasting Room. The Public House bar offers a quality wine list along with impressive hand-crafted cocktails.
John welcome the group by highlighting that "EVO is a part of the fabric of this community, we strive to continue our growth in Salisbury and remain a destination for visitors to the shore."
Tom shared that it was all about supporting the restaurant and supporting the brand out there. "It takes a group of employees like this to fill a brand and the loyalty we get from our local community is immense and that is what has made us one of the biggest breweries in the Mid-Atlantic.  We are going to keep trying to make the areas better, supporting the community, and invest in our people."
The brothers were presented a proclamation by Wicomico County Council President, John Cannon which congratulated them on the expansion.  Cannon also talked about the commitment the Knorr brothers had had to the community and the city of Salisbury.
Guests had the opportunity to view firsthand the completed largest mural in Salisbury, located on the western-facing wall of EVO, and which has been a community effort by SVN Miller Commercial Real Estate, the City of Salisbury, Chesapeake Utilities and Evolution Craft Brewing.  The mural titled "Suns & Suds" was completed by local artist Brandon Bell and Deserea Martin – We are Limitless Studios.
Appetizers included cheese and crudité trays, a variety of EVO's famous wings, and crab dip.  Thirst was quenched by our choice of wine or EVO craft beers.  Lucky members won swag items from EVO and Andrew Duley from Seagull Disposal won a $50.00 gift card.
For more information visit www.evolutioncraftbrewing.com, call 443-260-2337 or stop by at 201 E. Vine St, Salisbury, MD.