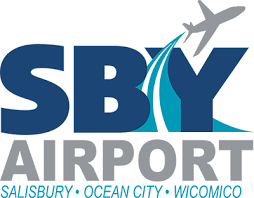 On July 7, 2020, the Salisbury-Ocean City-Wicomico Regional Airport received notification from the U. S. Department of Transportation's Federal Aviation Administration (FAA) of their approval of the Airport Layout Plan (ALP) and acceptance of the Airport Master Plan narrative that was prepared by Delta Airport Consultants in coordination with the airport. The Airport Master Plan serves as a comprehensive plan for overall development of the airport campus.
The main focus of the plan concentrates on extending the primary runway up to 7800 feet in length to support current operations by Piedmont Airlines that are weight restricted due to the existing 6400 foot runway. Future operational benefits will also be realized once the construction has been completed.
The Airport Master Plan outlines both near-term and longer- range airport development based on forecasting data as well as input from the airport, its' users, and the community it serves. Development in the next twenty years included projects such as a new Aircraft Rescue and Fire Fighting facility, a new airport maintenance and equipment storage building, new hangars for storage of private or corporate aircraft, a new fuel farm, aircraft cargo, maintenance, and manufacturing facilities, expanded parking, solar generation sites, and new taxiways and aircraft parking areas.
To expedite the runway extension project, the airport is currently preparing an Environmental Assessment (EA) to evaluate the potential environmental impacts of the proposed development. Construction could then begin upon preparation of a final EA document and issuance of a Finding of No Significant Impact (FONSI) by the FAA, and the acquisition of the required federal, state and local permits and approvals. The EA is to be prepared in accordance with the National Environmental Policy Act (NEPA) and local and state environmental regulations.
Wicomico County Extends its gratitude to Federal and State officials who were supportive during Master Planning process.