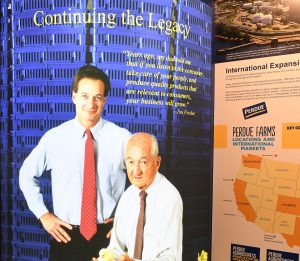 SALISBURY, MD – In 2011, the Franklin P. Perdue Museum of Business and Entrepreneurship opened as part of Salisbury University's newly constructed Perdue Hall.
For nearly a decade, it told the story of Perdue Farms Inc., and its founding family before closing along with most other SU buildings during the onset of the COVID-19 pandemic in March 2020.
Beginning this fall, visitors once again may tour the museum to learn about the past, present and future of Perdue Farms and its three generations of leadership — founder Arthur W. Perdue, his son, Frank Perdue, and his grandson and current company chairman Jim Perdue. This time, however, the experience will be completely different.
In celebration of the 100th anniversary of Perdue Farms in 2020, the Arthur W. Perdue Foundation worked with SU's Edward H. Nabb Research Center for Delmarva History and Culture to expand and update the museum. While some exhibits, such as early artifacts from the company, remain, others have received a complete overhaul.
"We are excited to partner with Salisbury University on the reopening of the Franklin P. Perdue Museum, which gives guests an up-close and personal look at our company and family legacy," said Jim Perdue. "It is our hope that our story, now in its second century, can inspire and inform budding entrepreneurs."
"The Perdue family and Perdue Farms have been an important part of Delmarva's history for more than a century, as well as staunch supporters of Salisbury University," said Jason Curtin, SU vice president of advancement and external affairs, and executive director of the SU Foundation, Inc. "We hope the newly renovated museum will continue to allow residents and visitors to learn about the Perdue story."
New exhibits focus not only on the company's history, but its present and future, from poultry and grain production, to its current leaders and their commitment to sustainability. A new big-screen monitor allows visitors to explore these concepts interactively, including a montage of the company's famous commercials. Featuring Frank and Jim Perdue, and Jim's sons Chris and Ryan, the ads date from the 1970s through today.
Admission to the museum is free, and the public is invited. Hours are 10 a.m.-4 p.m. Monday-Friday, and other times by appointment.
Visitors are required to wear a face mask while inside campus buildings. Those planning to park on campus must register in advance for a free parking pass at http://webapps.salisbury.edu/parking/visitor/.
A video tour of the museum is available at https://www.youtube.com/watch?v=03FqEsl5Yow&t=18s.
For more information call 410-543-6316 or visit the Perdue Museum webpage at https://www.salisbury.edu/academic-offices/business/perdue-museum.