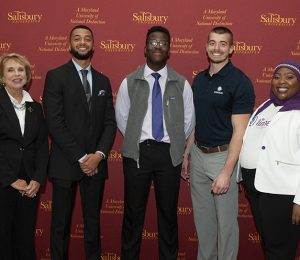 SALISBURY, MD—It is important to provide first responders all the tools available to successfully navigate spaces during an emergency.
Having readily downloadable 3-D models, drone/satellite images, quick-locating links and digitally enhanced floorplans of offices, schools and other buildings would provide critical information that could make their task much easier.
University of Delaware seniors James Massaquoi and Sury Gupta want their business, 360VR Technology, to be the go-to source for using digital images and other resources to provide a 3-D model view of buildings and surrounding spaces.
They recently received assistance toward making that plan a reality as the top winners of the 13th round of Salisbury University's Philip E. and Carole R. Ratcliffe Foundation Shore Hatchery entrepreneurship competition. Judges awarded the duo $50,000 for software, functionality enhancement, customer outreach and marketing.
The fall 2019 Ratcliffe Foundation Shore Hatchery competition drew 10 entrants throughout the Mid-Atlantic and awarded $95,000 in prize money to four businesses. Other winners, receiving $15,000 each, included:
Linnel Luxury Child Care (Hafeezah Muhammad), a proposed Baltimore-area all-inclusive child care center providing additional at-home and after-hours services such as nurse wellness check-in visits at the daycare center, at-home-sick day care, doctor visit care, monthly date night care and vacation day care;
Minds in Motion Children's Museum (Melanie Kerber), a proposed Salisbury-based company providing an engaging and interactive museum consisting of multiple display rooms for children through age 12 to help teach Eastern Shore youth about local industry through fun activities; and
Overwatch Golf (Seth Ainsworth), a Baltimore-based company offering golf course photo and video production services through drone technology, including Video Caddie, a product offering an enhanced aerial view of participating courses providing useful information such as target lines, yardage markers, green mapping and commentary.
In addition to funding, winners and participants receive mentoring support from the program's board. Mentors include business leaders such as Mike Cottingham  of Rommel Chesapeake, Inc.; Sandy Fitzgerald-Angello of Pohanka Automotive Group of Salisbury;  Patricia Royak, member of SU's Perdue School of Business Executive Advisory Council; David Landsberger, entrepreneur; and Jean Sewell of CareFirst BlueCross BlueShield.
SU President Charles Wight congratulated this year's winners and other participants.
"It's so exciting to see how creative the ideas are and how persistent the entrepreneurs are," he said. "I am so proud that all of this innovation is taking place at SU."
William Burke, SU director of Shore Hatchery and executive director of economic development, encouraged this semester's entrants to continue to pursue their businesses regardless of whether or not they were funded in this round and to investigate services offered by other organizations in Eastern Shore's "ecosystem" of resources for entrepreneurs, of which the University is a part.
"You have to leverage the ecosystem," he said. "It takes a special kind of person to put their ideas on paper and start a business. We're all working together to help you."
Dave Rommel, owner of Rommel Chesapeake, Inc.  and a long-time Shore Hatchery board member, said this semester's presentations were among the best in the competition's history. "The contestants get better every time," he said. "These are the highest scores I've given."
This round's winners join the program's 58 previous award recipients, who have self-reported estimated 2019 profits of some $26.2 million, creating more than 373 jobs.
The Philip E. and Carole R. Ratcliffe Foundation Shore Hatchery program was established with an initial $1 million contribution in 2013. In 2017, the Ratcliffe Foundation announced a second $1 million gift to continue the Shore Hatchery through spring 2023. It is administered through SU's Franklin P. Perdue School of Business. Its goal: to fund entrepreneurs and have new businesses opening within six months, with the potential of employing three or more within three years.
Up to $200,000 annually is available for those applying for grants through the Shore Hatchery program. Its board of directors selects recipients based on exhibits and presentations.
For more information call 410-546-4325 or visit the Ratcliffe Shore Hatchery website at http://shorehatchery.salisbury.edu.