Jersey invades downtown Salisbury as the best comics from The Garden State take over Revival for an evening of absolute hilarity! Headlined by Jerrold Benford, with special guest Jennifer Espenshade, and hosted by Keith Purnell. Catch them live on May 14, Saturday at 8pm!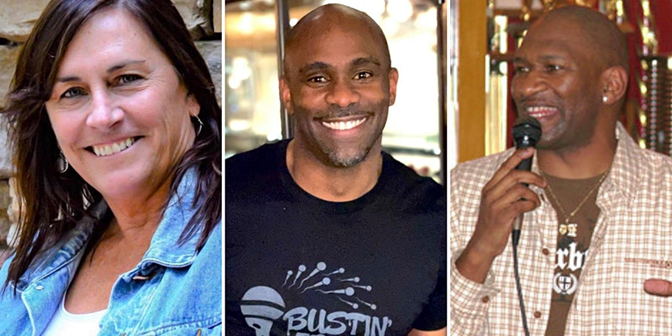 From left: Jennifer Espenshade, Jerrold Benford, & Keith Purnell
Headliner: Jerrold Benford
Jerrold Benford is currently establishing himself as a fixture on the eastern comedy circuit. He was born and raised in Virginia, but began his career in New Jersey, where he quickly made a name for himself.
Jerrold has performed in New Jersey and New York's finest clubs including: Rascals, Broadway Comedy Club, New York Comedy Club, Stand Up NY, Gotham Comedy Club, Stress Factory and the renowned Caroline's on Broadway. He also features and headlines clubs, colleges, and private functions from the east coast to the west.
Featuring: Jennifer Espenshade
Although Jennifer has been doing standup comedy for only a few years, she has been entertaining crowds for the past 25 years as a performer at the Pennsylvania Renaissance Faire, doing comedy in a giant pit of mud! She was also the co-owner of an improv comedy troupe, and also taught improvisation at Open Stage of Harrisburg. Her transition from improv and mud pit diving to standup seemed like a natural progression, plus, standup is much more forgiving on her aging body.
Host: Keith Purnell
Keith is one of the fastest rising comics from Delaware. He's a high energy performer whose quick wit, style, and fast pace humor makes him a hit and personal favorite of audiences young and old. He performs at Comedy Clubs across the country and has appeared on Television and in Movies. He was a winner in the Howard Stern "Kill or Be Killed" Comedy Competition and was the Philadelphia Regional winner in the Sierra Mist Next Great Comic Comedy Competition. Keith has had appearances on Last Comic Standing and is gaining the reputation as the next rising star. So watch out America, he's coming your way….be prepared….he's armed with Laffs!
Tickets available online at revivalshows.com or call the box-office at (667) 281-0101 for assistance.
"revival" is located on the 3rd floor of the City Center building in downtown historic Salisbury (213 W. Main St. Salisbury, MD). Follow us online: Facebook @revivalsalisbury, Instagram @revivalshows, Email boxoffice@revivalshows.com