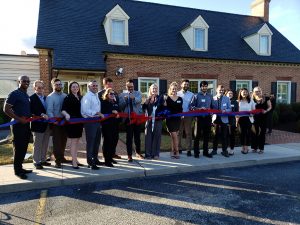 By Cathy Diekmann
Fisher Architecture, a locally owned architectural firm marked their tenth anniversary during an Open House and ribbon cutting co-hosted by the Salisbury Area and Ocean City Chambers of Commerce on October 10, 2019.
Keith Fisher began the firm in 2009 as a sole proprietor. Now licensed in seven states, he and his wife Caitlin employ a staff of twelve.  With a broad scope of talent, they deliver design and construction solutions for commercial, multi-family and private residential projects all over the Eastern Shore and beyond.  "We are very fortunate, " Fisher says, "Our team willingly takes on a perfect storm of opportunity."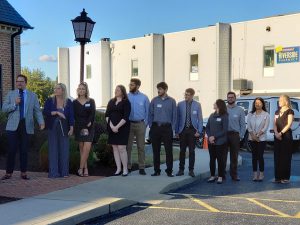 A tour of the Fisher office, located on Riverside Drive in Salisbury, Maryland, shows how prolific and innovative the firm has been over the years. Their walls are covered with photos from a myriad of Fisher Architecture projects that include hotels, restaurants, retail shops, medical facilities, and government offices, many of which are Eastern Shore landmarks.
During the ribbon cutting ceremony, Delegate Wayne Hartman thanked Fisher for the care he took in designing the 8-story Cambria Hotel in Ocean City.  It was crucial that the building not obstruct the iconic Ocean City water tower. "Every time I drive across the bridge (into Ocean City) with a clear view of that tower, I smile," mused Hartman.  "That was a job well-done."
On behalf of the Maryland General Assembly and Senator Addie Eckhardt, Maryland State Senator Marybeth Carozza, delivered an Official Citation acknowledging the firm's success.  "Ten years in business is a big deal," Carozza enthused. "That takes an awful lot of determination and effort, day in, and day out, not only to stay in business, but to grow."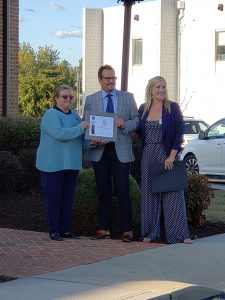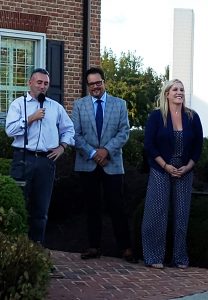 Wrapping up the program, Mayor Jake Day harkened back to when, as an architecture student, he interned for Fisher. Day credited Fisher for adding to Day's interest in addressing problems with design solutions.
During his remarks, Fisher expressed gratitude to his family, friends and the local community. "We are so appreciative of the local support we have received over the years. That has allowed us to build our portfolio in other markets where we can excel."
Check out the Salisbury Area Chamber of Commerce to consider how Chamber membership can support your business' opportunities to grow and excel.  Their website is www.salisburyarea.com