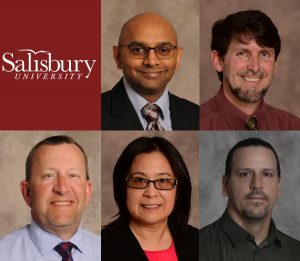 SALISBURY, MD—This year's Salisbury University Alumni Association Faculty Appreciation Award winners are "invaluable," "dynamic" and "compassionate," "encouraging" and a "pillar in the community," according to their former students.
The association honored five with the accolade during SU's first virtual Fall Commencement. They include Drs. Scott Mazzetti (Applied Health and Physiology) of the College of Health and Human Services, Michael Lewis (Environmental Studies) of the Charles R. and Martha N. Fulton School of Liberal Arts, Sophie Wang (Mathematics and Computer Science) of the Richard A. Henson School of Science and Technology, Ron Siers, (Secondary and Physical Education) of the Samuel W. and Marilyn C. Seidel School of Education and Leonard Arvi (Economics and Finance) of the Franklin P. Perdue School of Business.
"These are professors whose efforts have made a lasting impression on students, who have provided dynamic classroom instruction, who exhibit attributes graduates can take with them into their careers and who have made a difference in the lives of their students," said Lili Leonard, Alumni Association president.
In their nominations, alumni frequently gave eloquent and heartfelt praise to the faculty members who helped shape their experiences at SU.
"Dr. Mazzetti embodies a culture of excellence in and out of the classroom," said one former student. "His courses challenge students to think critically, ask questions, apply lessons to real-world situations, and establish professionalism in both independent and collaborative roles. He goes above and beyond to understand each student's potential and inspire them to explore their unique interests."
"Dr. Lewis was the first to help me understand why I needed to care about history," said an SU alum. "He showed me how everything in the past relates to what's going on in the world right now. And completely changed the way that I view the world and lit a fire of passion in me that has remained to this day."
"Dr. Wang taught us a way of life that we could not have known we needed before," said her nominator. "She is one of a few women I had the pleasure of working with in the classroom who had been in the computer science field and worked in a male-dominated industry. Her courses were difficult, but more importantly, they were valuable; I think she did an amazing job teaching very complex concepts."
"Dr. Siers always brought infectious enthusiasm to each and every class that I was in," said a former student. "He made a huge impact on me when I was at SU and is not only a great teacher, but also a great person who steps up for others in a time of need. Dr. Siers was one of the most memorable and influential teachers that I have had in my life, not just at SU."
"Dr. Arvi helped open the minds of many students, including myself, in regard to investing in the stock market as well as real estate, and is instrumental in providing real-world advice to students," said his nominator. "He always went and continues to go above and beyond for his students outside the classroom. In addition, he is adamant about connecting students to alumni and other colleagues to help with job placement, career advancement and further networking."
For more information call 410-543-6030 or visit the SU website at www.salisbury.edu.