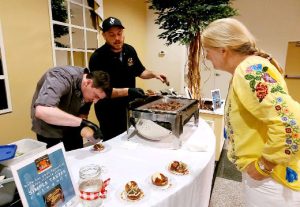 Dove Pointe in Salisbury was THE place to be on Thursday, May 19 for Delmarva foodies. Thirteen restaurants competed in the 13th Annual Taste of the Town with Delmarva Eats, presented by The Salisbury Area Chamber of Commerce and
Evolution Craft Brewing Company
.
Open to the public, attendees enjoyed unlimited food samples, local craft brews, and a full bar.
Throughout the event, attendees cast their votes for their favorite dishes in each of three categories – Simple Tastes representing casual, light fare; Signature Tastes, representing upscale, more refined dishes; and Delectable Desserts, representing the crème de la crème of Delmarva desserts.
The Signature Tastes category winner was
Mad Hatter Cafe.
Executive Chef Victor Subervi and Owner Thomas Ownby served a Sweet Pea Farro Risotto, topped with pan-seared rockfish and a drizzle of blood orange gastrique. The garnish was micro wasabi & red chilli pepper threads.
Roadie Joe's Bar and Grill
owner Jeremy Norton and Chef Jason Myers took home top prize for the night in the Simple Tastes category with a White Miso Braised Short Rib, topped with a jicama slaw and watermelon infused honey, served on a mini pretzel bun.
Cakes By David
took the top prize in the Delectable Desserts category. Owners David and Barbara Wharton served a mad assortment of desserts, including tiny pies, cheesecakes, assorted cookies, peanut brittle, and LOTS of cupcakes, including to-die-for Boston Cream cupcakes! Cakes By David has been family-owned and operated for 34 years.
Congratulations to all that participated and a huge shout out to Presenting Sponsor – Evolution Craft Brewing Co., and sponsors
Mountaire Farms
|
SECU – Maryland
|
TRS CPA GROUP
| 47ABC | Laura Hernandez, Luxury Residential & Commercial Construction, Painting & Cleaning, and
Dove Pointe.
DELMARVA EATS is a Facebook group the SACC created at the onset of the pandemic in an effort to support the restaurants and hospitality industry while they were striving to operate within the COVID-19 restrictions. The group provided an opportunity for local restaurants and hospitality services to inform customers on how to access their business in the ever-changing regulations imposed throughout the pandemic.
The SACC continues to promote businesses on DELMARVA EATS  and encourages you to JOIN the group, POST, and SHARE photos and information about your favorite local restaurants and hospitality businesses!