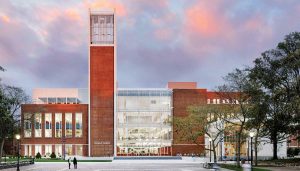 Salisbury, MD – "It is an honor for Salisbury University to be included on Forbes' 'America's Top Colleges' list, which reflects our commitment to providing high-quality education and fostering a vibrant campus community," said SU President Carolyn Ringer Lepre. "This recognition is a testament to the dedication and hard work of our faculty, staff and students who continue to excel in their pursuit of academic excellence.
"These rankings not only help validate the importance of what we do at Salisbury, but also demonstrate to students the value of earning their degrees at one of the nation's top universities."
Ranking among the 500 top-ranked campuses, SU's selection for the Forbes list was based on outcomes including student satisfaction, on-time graduation rates, student debt, and academic and employment success. Data was provided by the U.S. Department of Education's College Scorecard and Payscale.com, among other sources.
According to Forbes' methodology, more than 3,000 four-year colleges and universities nationwide initially were reviewed for the list, which was then narrowed based on those for which information was available from its data sources. From there, the list was honed even further based on undergraduate enrollment, and retention and graduation rates. Those remaining were considered for inclusion.
Forbes is not the only publication that has ranked SU among the top colleges in the nation. In recent months, Salisbury was named among The Best 389 Colleges for the 25th consecutive year by The Princeton Review, which also ranked SU's Patricia R. Guerrieri Academic Commons a top 10 "Best College Library" in the U.S.
For the 27th consecutive year, U.S. News & World Report ranked SU among the nation's "Best Colleges," placing it at No. 54 in the North. The publication also named Salisbury one of the region's "Best Value Schools" and "Top Public Schools," noting it as one of the "Best Colleges for Veterans" and "Top Performers on Social Mobility." U.S. News also lauded SU for having one of the "Best Bachelor of Science in Nursing Programs."
In addition, Money magazine has named SU among "The Best Colleges in America."
Learn more about SU and opportunities to Make Tomorrow Yours at www.salisbury.edu.