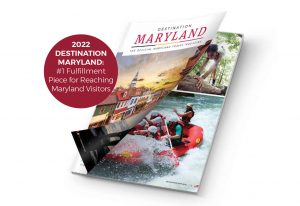 The Maryland tourism team is currently in the Business Listings production phase of our 2022 Destination Maryland Magazine. As the official fulfillment piece of the Maryland Office of Tourism, this magazine is a primary tool for Maryland visitor information with 250,000 printed copies distributed annually as well as downloadable from our website, www.VisitMaryland.org.
Destination Maryland Magazine is the primary avenue for partners wanting to promote their business, attraction or service to highly qualified visitors actively engaged in planning their Maryland vacations. By including your business listing in Destination Maryland allows partners to piggyback on the state's multi-million dollar marketing efforts promoting Maryland to visitors and driving demand for both our print and digital travel guides. For the 2022 Destination Maryland Magazine, there is no cost to participate as a business listing partner.
The deadline to submit business listing information is August 23, 2021. Business listing information should be provided through this form.
If you are interested in more exposure to Maryland customers, advertising reservations will be accepted through August 6th. View the full Media Kit online, here. To learn more about 2022 Destination Maryland Magazine or reserve your placement in the magazine, please reach out to Carly at Carly.Stedman@milespartnership.com or 202-681-8169.