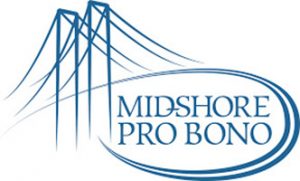 Department of Juvenile and Family Services of the Administrative Office of the Courts – Programs Division, will be hosting two free trainings for court-appointed attorneys in guardianship proceedings.
Unless waived by the court, attorneys appointed to represent alleged disabled persons and minors in proceedings to establish guardianship must be trained in the aspects of guardianship law and practice in conformance with the Maryland Guidelines for Court-Appointed Attorneys in Guardianship Proceedings. These programs conform with the Guidelines.
You must be a member of the Maryland bar to attend.
One of the trainings will be held at Chesapeake College on September 6th, and an additional training is being offered on October 3rd in Bethesda. Breakfast and lunch are included.
Click here for more details and to register.
Mid-Shore Pro Bono
PROJECTS & PROGRAMS
ECONOMIC STABILITY PROJECT The Economic Stability Project offers legal advice and support on a variety of financial challenges faced by low-income individuals including: foreclosure, landlord-tenant issues, consumer debt, consumer protection, bankruptcy, record expungement and other real property issues. Our services in this area help clients remain employed, remain in their homes and continue providing for their families.
ELDER LAW PROJECT The Elder Law Project supports the growing population of seniors on the Eastern Shore by providing assistance with end of life documents and general legal advice in a safe and secure setting. Services offered include wills, powers of attorney, advanced medical directives, estate administration and guardianship.
VULNERABLE POPULATIONS ASSISTANCE PROJECT This project focus on the specialized legal needs of immigrants and is led by a bilingual, B.I.A. (Board of Immigration Appeals) accredited project manager who is passionate about helping immigrants and their families with various citizenship and general legal issues.
RESTORATIVE JUSTICE PROJECT MSPB offers several Alternative Dispute Resolution options for youth and adults facing complex legal issues, crime and conflict. Community Conferencing is available for incident-based referrals while our Restorative Dialogue Circles are a proactive tool for engaging youth in safe, open discussions. Our goal is to provide options for keeping our region's youth out of the juvenile justice system.
FAMILY LAW PROJECT MSPB connects low-income individuals who are involved in difficult family matters such as divorce and child custody with an attorney who can guide them through these legal processes an often provide representation in court.