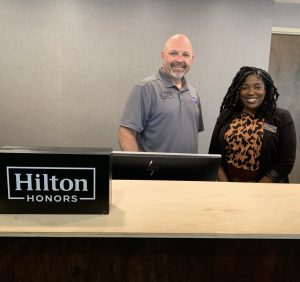 By Cathy Diekmann
Drive by the Hampton Inn North Salisbury and you will notice a freshly painted bright white and cobalt blue exterior.  There is even more fresh and new inside.
During the May 2021 Salisbury Area Chamber of Commerce (SACC) Business After Hours, Hampton Inn North Salisbury's General Manager Bill Dillon explained, "Almost every part of the hotel has been touched and upgraded. By the time we're done it will look like a brand-new building."
The event, attended by SACC members, guests, and community leaders, was held in The Hampton Inn North Salisbury's ballroom. Delicious light fare was provided by Black Diamond Catering. On any other given day, The Hampton Inn North Salisbury's four meeting rooms host wedding receptions, baby showers, birthday parties, and business meetings.
Innovative Hospitality Management purchased the Hampton Inn North Salisbury from its former owner in August of 2019. When a hotel property changes hands, most major hotel brands require a PIP, a Property Improvement Plan, to bring that property up to the current standards for that brand. The renovation for the Hampton Inn North Salisbury property were extensive.
"It's been a long project," Dillon noted. "We have a new roof, the exterior is done, all of the guestrooms have been upgraded and well received, and the majority of the public space is done. Hopefully in the next 60 days or so, the full project will be complete."
That's a good thing, summer is here and that means the tourism season is about to heat up. Tourism is a significant economic driver in Wicomico County. The industry took a serious hit in 2020 due to the COVID-19 pandemic. But according to a 2019 Maryland Visitor Economic Impact report, Wicomico County welcomed 932,000 visitors resulting in a $198.8 million economic impact and supporting 2,456 jobs. Nearly 21% of that revenue was spent on lodging.
"Occupancy is coming back strong," Dillon enthused. "We can thank a lot of the sports tournaments in the area for that – softball, baseball, lacrosse and basketball. It's going to be a good year."
Wicomico County Tourism Manager, Kristen Goller, concurred, "The Hampton Inn North Salisbury strongly supports tourism efforts.  They graciously serve as a host hotel for both the USSSA Eastern Nationals Softball and Governor's Challenge High School Basketball tournaments."
Dillon added, "Right now, July 2021 is looking even better than July 2019. The USSSA softball tournament is going to be huge this year. It's on pace to reach record attendance."  In 2019, the USSSA softball tournament involved 374 teams, resulting in an estimated economic impact of $17.8 million.
The Governor's Challenge Basketball Tournament, also held in Salisbury, has grown to be the largest holiday basketball tournament in the country. In its 40th year, the Governors Challenge will bring nearly 130 teams to the Wicomico Civic Center and surrounding high schools.
While an influx of visitors can add to traffic and wait time at local restaurants, keep in mind they also add to local revenue and support jobs. Dillon quipped, "When people come and stay with us, they need to eat somewhere, they want to shop and do activities. That all adds up. We're happy to be part of that revenue generating cycle."
Would you like to showcase your SACC member business by hosting a 2022 Business After Hours at your location? Contact Cathy Diekmann at cdiekmann@salisburyarea.com or 410-749-0144 to reserve your preferred 2022 date before it's booked.