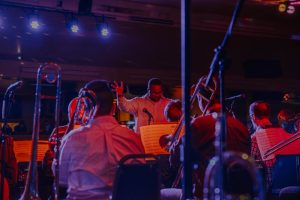 Salisbury, MD – Friday Night Live Summer Concert Series continues at Riverwalk Amphitheater this Friday in Downtown Salisbury with the Stephen Phillip Harvey Jazz Orchestra's latest production SMASH! Stephen Phillip Harvey is a Salisbury based composer who is passionate about both jazz and pop culture, and this large ensemble project combines contemporary big band writing styles and genre-blending idioms to bring comic book inspired pieces to life. SMASH will combine elements of big band jazz, fusion, funk, rock, and cinematic score to bring classic characters and scenes off the page and put you right in the battle of hero vs. villain. Whether you want to fly through the skies, hatch a nefarious plot, or just smash something, the Stephen Philip Harvey Jazz Orchestra has a piece for you. Come join in on the action!
The concert is free to attend, and will be held from 5 p.m. to 8 p.m. – just bring your own lawn chair!  Local food trucks Sandy's "Dog" Gone Good Eats and Mister Softee of the Eastern Shore will be on site offering both sweet and savory snacks, or carry-out from one of Downtown Salisbury's fabulous restaurants.  Beer and wine will be available for sale.  Parking is available in the Downtown Salisbury parking garage or in the City of Salisbury Parking lots located just north of the river, all free after 5 p.m. on Fridays.  Facemasks and social distancing will not be required.
Friday Night Live Summer Concert Series was originally planned as a pandemic-alternative to the Downtown Salisbury Festival, but already has high hopes to return year after year.   "We are so excited to bring this live music series to Downtown Salisbury, after the last year we could all use some sunshine, great music and a chance to see friends in an open-air environment" says Executive Director Jamie Heater.
The concert series is sponsored by Salisbury Arts & Entertainment District, the City of Salisbury, The Maryland State Arts Council, 47 ABC and the Community Foundation of the Eastern Shore.  For more information visit www.salisburyartsdistrict.com/fridaynightlive.