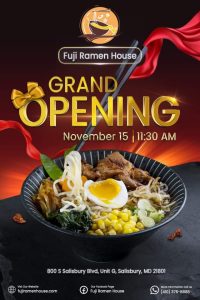 Salisbury's newest restaurant, Fuji Ramen House, is excited to announce its official grand opening on Wednesday, November 15, at 11:30 AM and all are welcome to attend!
Over the past fifteen years, owners Jack Chen and Jason Wang opened several Asian restaurants in Delmarva, including East Moon, OC Chopsticks, and Lucky Star.  They are now delighted to offer authentic Japanese ramen in Salisbury, bringing all new flavors to local dining.
The menu includes Japanese-style ramen, curry dishes, rice bowls, appetizers, and desserts.  Local foodies will want to add this to their bucket list and experience the exotic food culture here!
Fuji Ramen House will also hold an official SACC Ribbon Cutting on November 15th, from 4:00-5:00 PM. Please RSVP at salisburyarea.com.
Fuji Ramen House is located at 800 S. Salisbury Blvd, Unit G, Salisbury, MD 21801, and offers dine-in and takeout options.  To place an order, visit fujiramenhouse.com or call 410-376-8888.