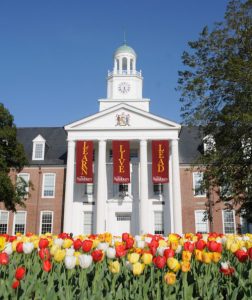 SALISBURY, MD—Faculty in Salisbury University's Charles R. and Martha N. Fulton School of Liberal Arts share their research and expertise during this semester's Fulton Faculty Colloquia series.
     Presentations are 3:30-5 p.m. select Tuesdays in a virtual format, featuring the teaching, scholarship and service of faculty members.
     Topics and speakers include:
January 19 – "International Exchanges Without Travel: Connecting Classrooms Across the Globe" with Professors Brian Stiegler, associate provost for international education; David Burns, communication; Lori DeWitt, communication; Sally Perret, modern languages; Tina Reid, nursing; Sarah Surak, political science and environmental studies; and Melany Trenary, communication: COVID-19 has limited student travel, but several faculty members found innovative ways for students to gain international experience without leaving the country. Speakers discuss partnering with faculty around the globe to enhance the classroom learning experience.
February 2 – "Fulton Faculty Award Winners: Teaching and Civic Engagement" with Drs. Andrew Sharma, communication; and Rachel Steele, psychology: Sharma earned a U.S. Department of State India Educational Foundation Grant. Steele adapted one of her courses – Psychology of Prejudice – for SU's Glenda Chatham and Robert G. Clarke Honors College.
March 2 – "Fulton Faculty Books: Multimedia Journalism and Health Communication" with Drs. Vinita Agarwal, communication; and Jennifer Cox, communication: Discussion includes Cox's book, Feature Writing and Reporting: Journalism in the Digital Age, and Agarwal's Medical Humanism, Chronic Illness, and Body in Pain: An Ecology of Wholeness.
April 6 – "Fulton Faculty Books: African American and Korean Diaspora" with Drs. Aston Gonzalez, history; and EJ Han, communication: Discussion includes Gonzalez's book, Visualizing Equality: African American Rights and Visual Culture in the Nineteenth Century, and Han's Korean Diaspora Across the World: Homeland in History, Memory, Imagination, Media, and Reality.
May 4 – "Fulton Faculty Grant-Supported Service" with Drs. Yuki Okubo, psychology; Michèle Schlehofer, psychology, Timothy Stock, philosophy; and Accelerated Mentoring Program students: Discussion includes the Accelerated Mentoring Program, a comprehensive professional development program for diverse students majoring in psychology, and a National Endowment for the Humanities grant which created the "Re-envisioning Ethics Access and Community Humanities (R.E.A.C.H.) Initiative: Integrating Community and Curricular Ethics."
Sponsored by the Fulton School, the series is free and the public is invited. To register for the event visit bit.ly/fultoncolloquiasp21.
   For more information call 410-543-6450 or visit the SU website at www.salisbury.edu.