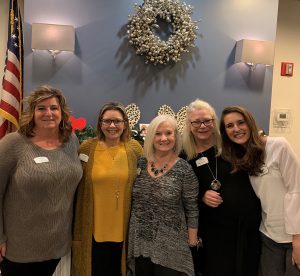 Lakeside at Mallard Landing hosted a Valentine's Day themed Business After Hours for the Salisbury Area Chamber of Commerce (SACC) on February 6, 2020. It offered all the pleasantries – good food, music, and decorations, plus business networking (Better than romance drama!)
Guests were greeted by SACC Ambassadors Ryan Bass, Leslie Zimmerman, Michelle Low and Jeff Merritt. They were at the ready with information about the evening's events as well as upcoming opportunities and suggestions for making the most of your SACC membership benefits.
The Lakeside at Mallard Landing culinary team laid out a beautiful spread including strawberry mimosas, glazed meatballs, crudité platters and chicken wings that "The Hatter Himself" (Jeremiah Burns of The Mad Hatter Restaurant) dubbed "Legit competition."
During her program remarks, Senior Lifestyle Counselor, Patti Bulvin, explained how the Lakeside at Mallard Landing community includes three neighborhoods – independent living, assisted living and memory care. Each offers the convenience of housekeeping, maintenance, transportation and dining services with health and wellness supports according to the resident's specific needs. All residents are encouraged to stay active and enrich their lives through a variety of fitness, educational and social programs. To check out their lifestyle programs or schedule a free, luncheon tour, see their website www.lakesideatmallardlanding.com.
After the program, DJ Mike turned up the music and turned the mic over to members who were game for karaoke.  Guests were entertained by versions of "Hit Me Baby One More Time," The Cupid Shuffle" and "The Wobble." (with dancing) Yes. Yes, they did.  And it was fun.
Be sure to check out the SACC website at www.salisburyarea.com for upcoming events, money-saving opportunities and membership benefits designed to support a variety of business interests.