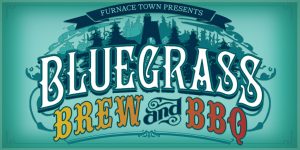 Bluegrass, Brew and BBQ
SNOW HILL, MD (17 July, 2019) – On Saturday, August 17, 2019 music will fill the Pocomoke Forest, as Furnace Town Historic Site hosts a performance of the Blue Crab Crossing Bluegrass Band.
This annual homespun music event will take place at the site of the Nassawango Iron Furnace, from 4:00 p.m. until 8:00 p.m., with music beginning at 5:00. Food and beverages, including a variety of craft beers, will be available for purchase. The family friendly afternoon will offer entertainment and games for children and adults, amidst the Furnace's 19th century Village backdrop. This rain or shine event directly supports the operations of and education and community programming provided by the Furnace Town Foundation. Pre-sale tickets to the event are available online, via Facebook and Eventbrite ticketing, and will be available on the day of the event at the gate. More information can be found on Furnace Town's Blue Crab Crossing Bluegrass Band website, www.furnacetown.org, or be requested by e-mail at info@furnacetown.org.
About Furnace Town Historic Site and the Furnace Town Foundation:
Furnace Town Historic Site is an outdoor museum and education center, located near Snow Hill, in Worcester County, Maryland. Home to one of the only surviving, and earliest examples of, a "hot blast" furnace in the United States, the site was one of the few bog iron production sites in the country. The Nassawango Iron Furnace is recognized as a site on the National Register of Historic Places, listed in the Maryland Inventory of Historic Properties and is detailed in the National Park Service's Historic American Engineering Record.
The Furnace Town Foundation, which operates the site's 25 acres, provides community and educational programming, sharing the lore of those who worked in service of the Nassawango Iron Furnace, and lived in the Pocomoke Forest. The Foundation stewards and interprets the Village of historic buildings on site, and their collections, to provide connections to and understanding of the past and the natural world.