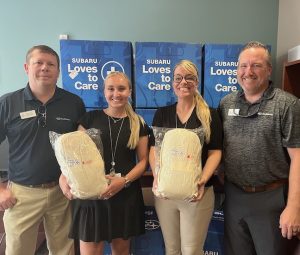 SALISBURY, MD — Each year, the Leukemia and Lymphoma Society (LLS) partners with Subaru dealers nationwide to raise funds and awareness for cancer patients. The initiative is part of Subaru Loves to Care, a national effort from Subaru of America focused on spreading warmth, love and hope where it's needed the most. For many years, TidalHealth's oncology patients have received donations from this initiative.
On June 8, team members from Gateway Subaru in Delmar visited the Richard A. Henson Cancer Institute to present a donation of 80 blankets for oncology patients in Salisbury, Seaford and Ocean Pines to keep them warm during their infusion treatments.
Alongside the donation, Gateway Subaru customers and employees delivered written personal messages of hope to the recipients, showcasing their support for those in the community who are in the fight of their lives.
Patients battling blood cancer are in the fight of their lives. Every three minutes in the U.S., a new patient joins those diagnosed with leukemia, lymphoma, or myeloma. The recovery is long and often leaves them feeling weak, cold and isolated.
This is the seventh year Gateway Subaru has donated warm blankets and messages of encouragement and is just one way Gateway Subaru strives to be More Than a Car Dealer for the Delmarva community. By the end of 2022, Subaru of America and its nationwide network of retailers will have donated more than 230,000 blankets and thousands of messages of hope to patients fighting blood cancer.
TidalHealth would like to thank Gateway Subaru and the Leukemia and Lymphoma Society for their continued support of our patients and the communities we serve. To learn how you can help make a difference, visit tidalhealth.org/foundation.