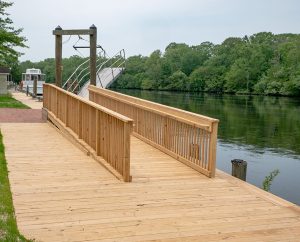 SALISBURY, MD – The principals of Gillis Gilkerson (GGI) are pleased to announce the firm's recent partnership with the Town of Snow Hill, Maryland to extend the boardwalk at Sturgis Park, a waterfront recreational attraction located at 100 River Street. The +/- 4,075 square foot extension is expected to bring more foot traffic into Snow Hill's downtown district, boosting activity for local businesses.
"We are always pleased to have the opportunity to provide local municipalities with services to enhance any outdoor landscape that will attract visitors to the Eastern Shore," said President Dwight Miller of Gillis Gilkerson. "The town of Snow Hill is truly a gem that provides an escape for locals and visitors alike to relax and enjoy the river and nearby parks that are now connected with this newly extended boardwalk."
Led by Project Manager Daniel Ash with onsite supervision provided by Superintendent Charlie Morris, GGI's construction team completed the extension within a 30-day timeframe. The scope of work included the installation of a foot ramp, rain garden and paver overlay. Additionally, the team relocated site lights and executed bulkhead repairs.
"My experience working with the Gillis Gilkerson team was top notch," said Rick Pollitt, Town Manager of Snow Hill. "They were professional and delivered quality work, and bent over backwards to seamlessly pull it all together."
The town extended the boardwalk to improve overall walkability and connectivity along the Pocomoke River from Sturgis Park to Byrd Park. Town officials plan to add a bike trail for cyclists in the future. Accommodations offered in Sturgis Park include a covered pavilion, picnic tables and canoe and kayak rentals to paddle along the river in addition to riverboat rides offered through the summer season.
For more information on this project or to inquire about the firm's construction and development services, call (410) 749-4821 or visit www.ggibuilds.com.