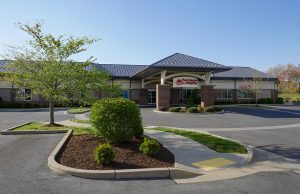 SALISBURY, MARYLAND – January 19, 2021 – Vice President Tyler Barnes of Gillis Gilkerson (GGI) recently announced the firm's completion of renovations to the south corridor of Peninsula Imaging, a medical office located at 1655 Woodbrooke Drive in Salisbury, Maryland. In just four months, GGI's construction team transformed an unoccupied portion of the office into exam rooms with a new, covered entrance and walkway. The +/- 2,700 square foot project was led by Barnes with onsite management provided by Superintendent Don Brady.
"Gillis Gilkerson provided minimal interference in our day-to-day operations and did a wonderful job blending the new construction with our existing furnishings," said Thomas Spencer, Peninsula Imaging's Director of Operations. "The new multi-entrance covered walkway provides added safety measures and outdoor seating to assist with social distancing and patient drop-off. With the patient in mind, the additional waiting areas are conveniently located in close proximity to each department."
Gillis Gilkerson's scope of work also included the addition of a secluded, private area for female imaging patients as well as the expansion of suites allowing room for new state-of-the-art imaging machines and disinfectant devices. In wake of the project's completion, Peninsula Imaging has experienced improved workflow efficiency resulting in advanced patient care and safety.
"We value the trust that Peninsula Imaging has repeatedly placed in our team," said Barnes. "We appreciate the forward thinking they have demonstrated in a project that displays their commitment to the health and safety of our community."
About Gillis Gilkerson
In its 38th year of building and real estate development on Delmarva, award-winning Gillis Gilkerson has built a reputation as one of the most trusted and stable construction management and general contracting firms on the Peninsula.  From new commercial construction to renovation, the company's construction managers offer broad and deep experience in diverse industries such as medical, industrial, manufacturing, hotels, multi-family housing, houses of worship, restaurants, retail, schools and more.  Its full-service real estate development expertise offers custom solutions for land purchase, building program development, turnkey project management, obtaining permits and approvals, property management, property marketing, purchase, lease, and lease/purchase options.  The team works in conjunction with architects, government planners, engineers, surveyors, inspectors, contractors, and leasing agents to manage the development process from concept to completion.