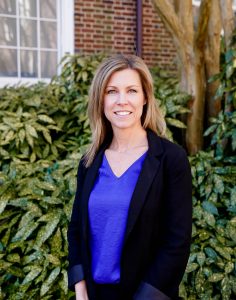 The Greater Salisbury Committee is pleased to announce that Kim Gillis will be joining the organization as its new, and its first, Communications and Outreach Director. Gillis will begin her new job on April 12th.
Gillis comes to GSC after a successful and extensive career with Becker Morgan Group, Inc. Gillis was with BMG since 1999, rising to the position of Senior Associate/Business Development & Marketing Manager.
In her new position at GSC, Gillis will lead efforts relating to Membership engagement and enhancement; social media coordination; and helping to coordinate the myriad programs and initiatives that GSC is involved in.
Gillis brings not only tremendous professional skills and talents to GSC, but also a steadfast and impressive commitment to serving her community. Gillis is the current Vice-Chair of the Wor-Wic Community College Board of Trustees, a gubernatorial appointed position; the Vice President of the SU Alumni Association Board of Directors; a past Chair of the Salisbury Area Chamber of Commerce; a member of the Community Foundation of the Eastern Shore's Education Awards Committee; a 2013 graduate of the Shore Leadership program; and a graduate of the first ever GSC Transformational Community Leadership Series (TLC) in 2016.
"To say that I have been fortunate in my career is an understatement. I was blessed with 21 amazing years working at Becker Morgan Group, Inc., learning from and working with some of the very best people (far too many to name)! I will be forever grateful for the friendships, memories, challenges and successes enjoyed during my time there, and am incredibly thankful the relationships gained will continue! Now, as I set my sights on new adventures and opportunities, I am beyond thrilled to be joining the Greater Salisbury Committee. GSC has helped shape our community for many years and has had a significant impact on the Salisbury area. I am honored to be part of an organization focused on positive change and forward progress for our community! Having the opportunity to pause and reflect on this transition has allowed me to realize that I am grateful for the past, and so looking forward to what the future holds," Gillis said in a statement regarding her hire.
GSC President/CEO Mike Dunn said of Gillis: "As our first ever Communications and Outreach Director, GSC could not have landed a better person. Kim is a tremendous addition to GSC. We are honored to bring her professional expertise, her community connections, and her tremendous marketing talents to GSC. This is a new direction for our organization, and Kim will be a key asset in our continuing efforts to serve as a community catalyst. We look forward to all that Kim brings to GSC."
Current GSC Chair Jim Hartstein, of the Insurance Market, adds: "The addition of Kim Gillis is a huge milestone in the already rich history of the Greater Salisbury Committee. Kim has a proven track record of success both professionally and with other community organizations. As the role of GSC in our community continues to develop, I have every confidence that Kim will bring her brand of thoughtful, dynamic, solution oriented leadership to her new role. The Greater Salisbury Committee is a stronger organization with Kim Gillis on the team."
Gillis can be reached at kgillis@greatersalisbury.org
Gillis lives in Salisbury with her husband Brad, and their two sons, Beau and Jackson.