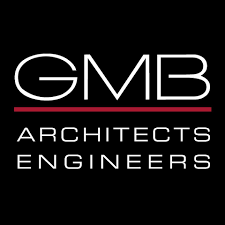 The architectural and engineering firm of George, Miles & Buhr, LLC (GMB) congratulates two employees on recently passing the eight-hour Principles and Practice of Engineering exam.
Benjamin K. Hearn, P.E. of GMB's Seaford, Delaware office is now a registered Professional Engineer (P.E.) in the State of Delaware. Hearn is a 2016 graduate from the University of Delaware, where he majored in Civil Engineering. He began as an intern with GMB in 2014 and joined our Civil / Municipal Engineering Group full-time upon his graduation in 2016. In his time with GMB, Hearn has worked on a number of notable Sussex County projects, including ACEC Delaware Grand Conceptor Award winner Gills Neck Road Wastewater Flow Diversion in Lewes. He is currently working on the Western Sussex Utility District Sewer Regionalization project, as well as the Ross Business Park Complex in Seaford.  Hearn is a Seaford native and is an active member of the Seaford Volunteer Fire Department.
Andrew W. Wright, P.E. of GMB's Sparks, Maryland office is now a registered Professional Engineer (P.E.) in the State of Maryland. Wright joined GMB in 2015 after graduating from the University of Delaware with bachelor's degrees in Environmental Engineering and Civil Engineering. His Maryland project portfolio includes the Ceresville Pumping Station, Garrett County's Western Conveyance System, and the Mount Airy Wastewater Treatment Plant Filter Building. Currently, Wright is working on upgrades to the Oxford Wastewater Treatment Plant as well as interceptor sewer improvement projects at the Tiber Branch and the Sucker Branch in Howard County.
GMB is a premier Architectural & Engineering firm with offices in Salisbury, Baltimore, and Seaford. The firm specializes in water, wastewater, land development, municipal, structural & sustainable engineering; and commercial, residential & institutional architecture. Founded in 1960, GMB is celebrating 61 years of serving the Chesapeake Bay region and beyond. For more information, visit GMB's website at www.gmbnet.com.